We would be very sad to see you go. It does not happen very often as we keep most of our customers very happy. If you decide to leave us, please let us know why. Send us a quick note, we would really appreciate your feedback. If there were a couple things that did not work for you - we would love to hear about that and help you fix it. Your feedback will help us build better products for our existing and new customers so please tell us why you are about to make this decision and we will make sure we improve. Thank you for your effort and consideration.
How to delete my account and cancel subscription?
You can cancel your subscription any time.
In order to cancel your subscription, go to LEFT PANEL > ACCOUNT and click "You can delete account here" link at the bottom. Once you have deleted your account, we will remove all of your configured dashboards, reports and collected data. You may still receive a few emails but you can always unsubscribe by using "Unsubscribe" link.
As we offer two separate products, please use the correct login to cancel your paid subscription:
Octoboard for Agencies
or
Octoboard for Business
. If you have two Octoboard accounts, you will need to login twice and delete them both.
An email or phone request to cancel your account is not considered cancellation. You should follow the simple procedure above to cancel your account and stop recurring charges.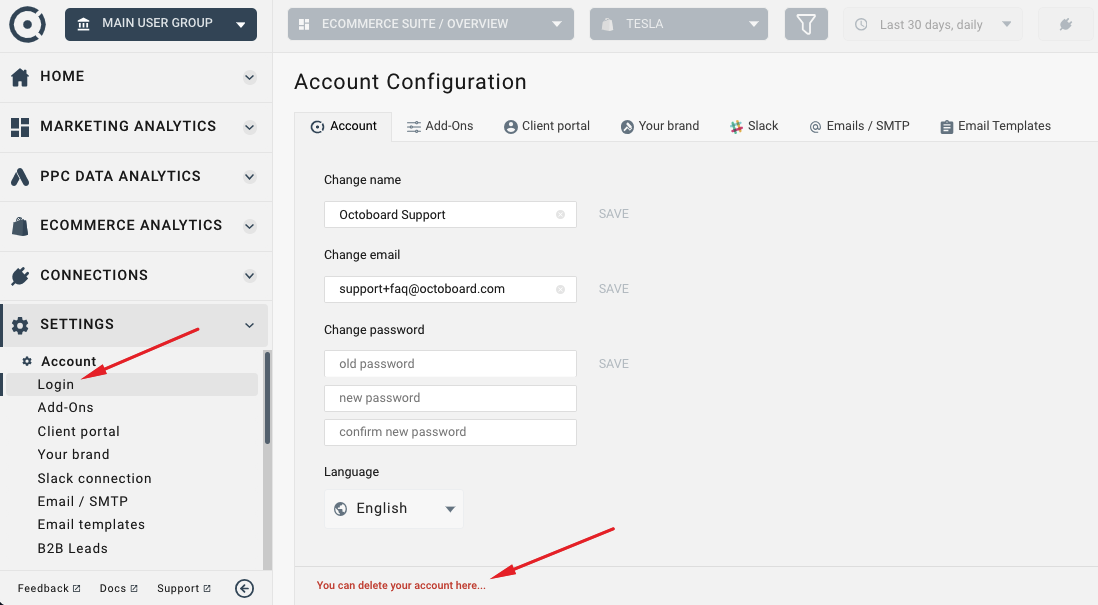 Can you cancel my account for me?
Unfortunately, we can not delete accounts of our clients on request. When you create an account, you always nominate an administrator.
Only your administrator can close (delete) your account.
By logging into our platform and following the steps above, you can delete accounts that you manage. As you go through the process, our platform will verify that you are authorised to delete data that you have collected for your organisation. Octoboard support members do not have such permissions.
I took a 14-day trial and made a purchase. Can I get a refund?
When you purchase a subscription, our payment engine will start charging your credit card on a recurring basis. Recurring basis means that charges will be made automatically at the beginning of every billing cycle (monthly or yearly). Recurring charges stop as soon as you delete your account. Octoboard charges are not refundable.