Knowledge Base
CORE PRODUCTS: GETTING STARTED
Sending AI data insights via Slack and Email
Octoboard use ChatGPT (OpenAI) to monitor changes in your cloud data trends automatically and send regular updates to your Slack channel or by email. You can ask for data insights from all major cloud platforms - from Paid Advertising systems to Web Analytic and Social Networks.
Octoboard Insights feature is available in Octoboard for Business product and in all Octoboard for Agencies subscriptions starting from TEAMS. For more details, please refer to Octoboard Pricing Page.
We have prepared some 50 insights for you to choose from. Setting up your Slack channel or email for receiving updates is very easy. This tutorial shows the main steps for selecting insights and setting up distribution channels.
To access Insights setup in Octoboard select "MANAGE INSIGHTS..." menu item in the top-right menu.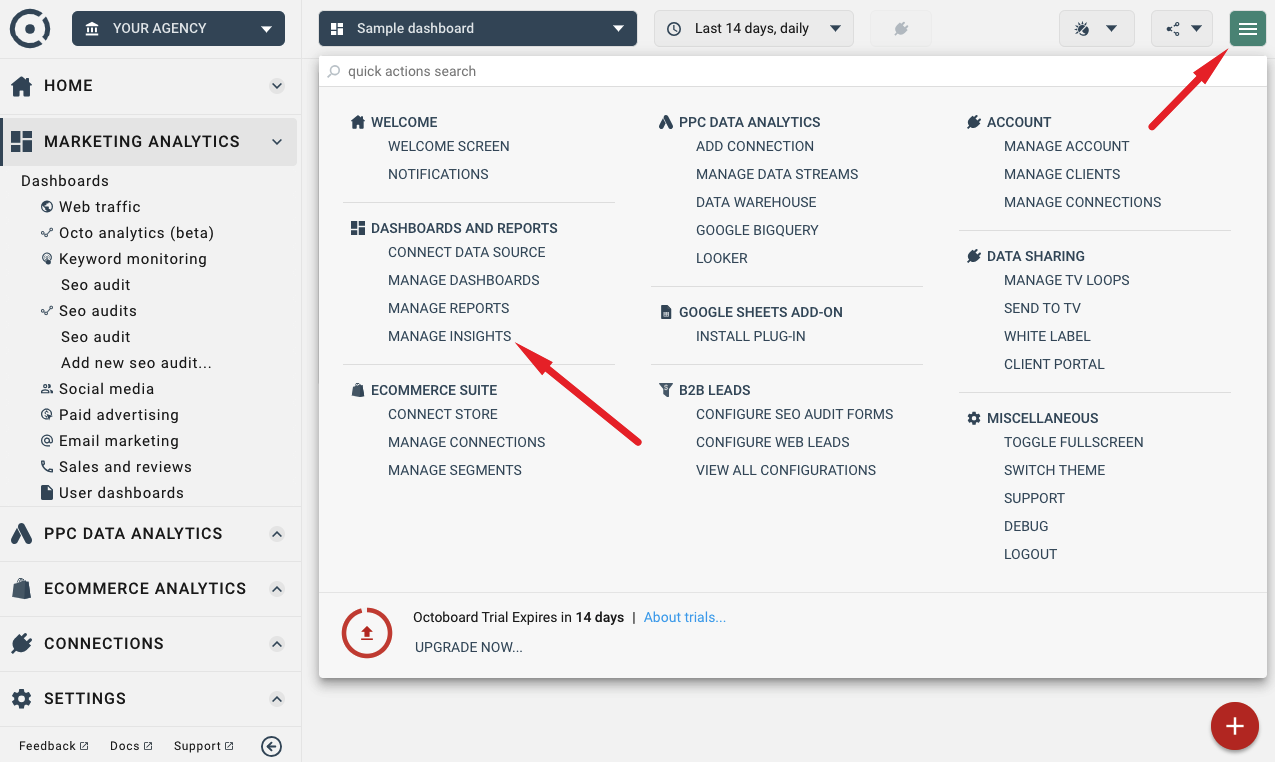 Octoboard Insights are available for every organisation (client or team) in your Octoboard account. You have one insight group per organisation available. An insight group is made up of a number of pre-defined insights that you can enable or disable for your organisation.
When you open the Insights panel, you will see the list of available insights to enable and distribute.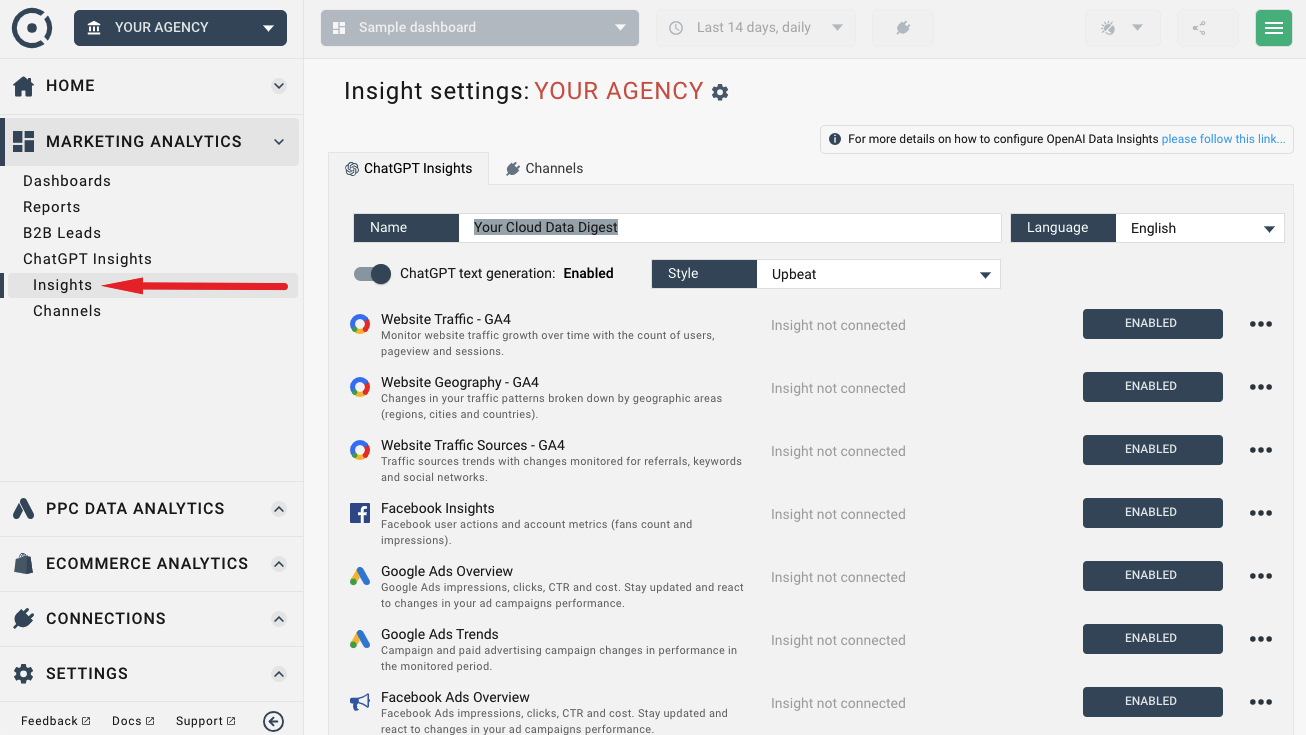 Use "ENABLE" buttons to enable and connect individual insights. Once an insight is connected to an account, our platform will start monitoring your data and will send weekly or monthly digests for your connected cloud applications. You can turn off insights distribution by disabling them individually or by switching off the email or Slack distribution channels as explained below.
You can configure insights distribution channels - Slack and Email - for any organisation in your account. You can have different distribution channels per group. To enable a channel, simply set the channel switch to ON. If you set it to OFF, channel will be disabled.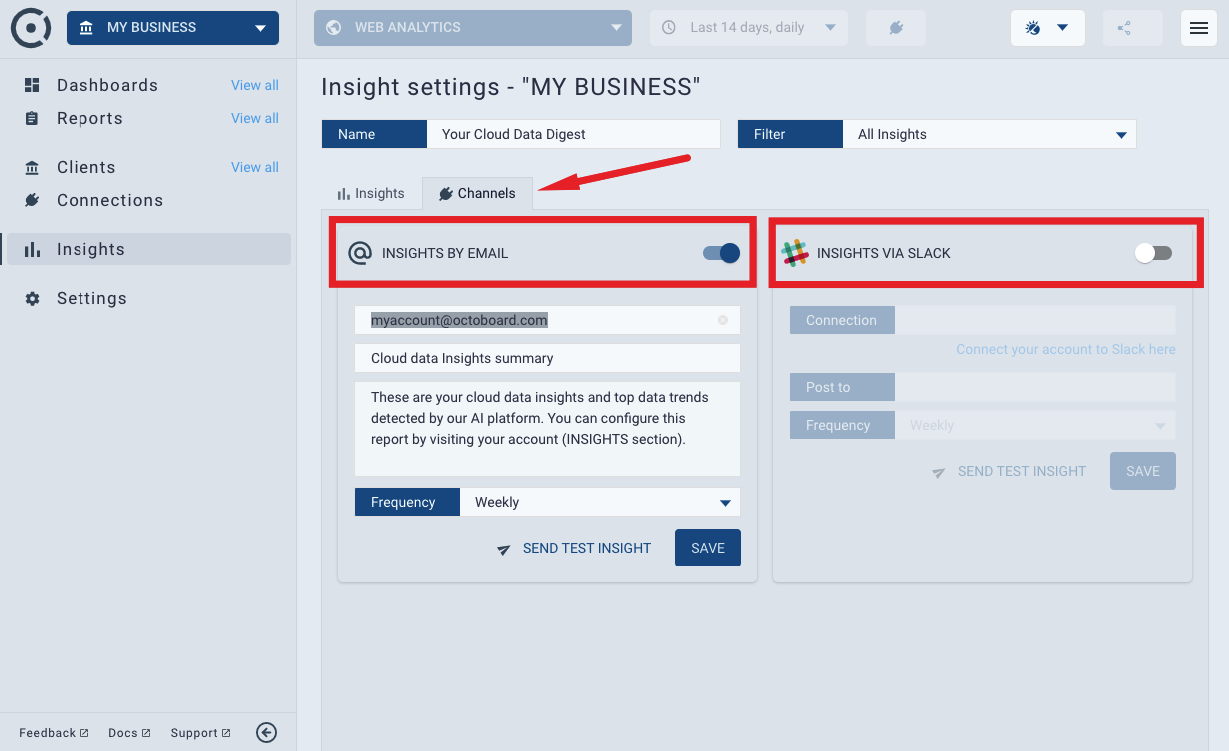 To add your Slack channel, set Slack switch to ON and click on link "Connect your account to Slack here". Slack connection dialog will popup prompting you to enter your Slack login details.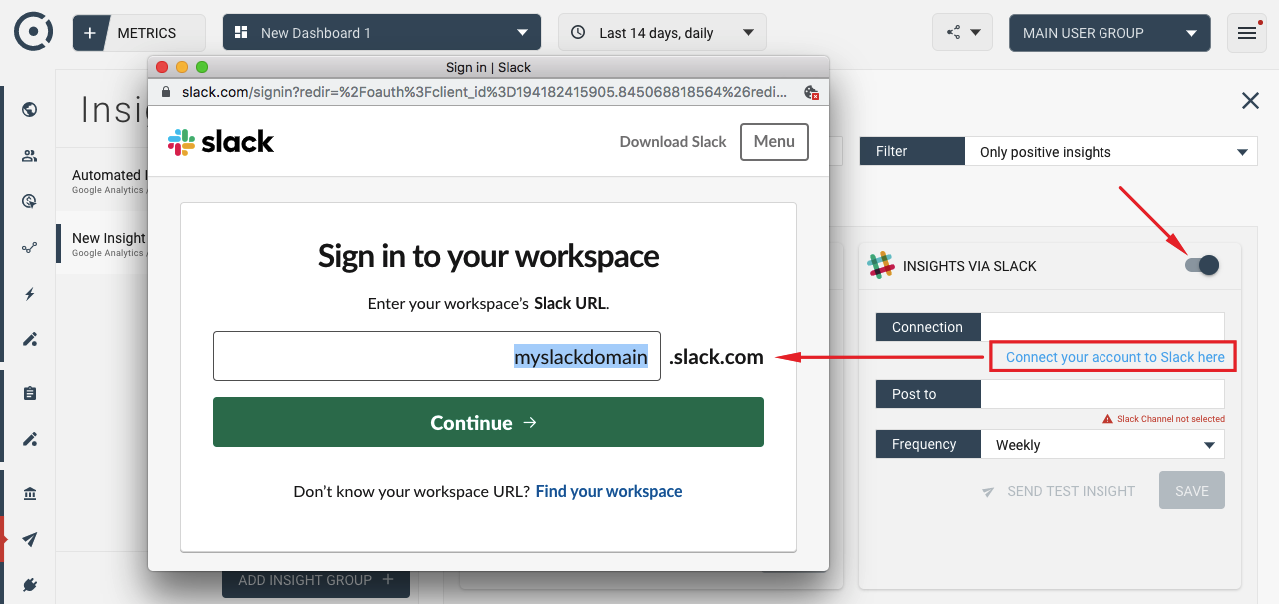 In the popup dialog you will need to allow Octoboard to use required permissions.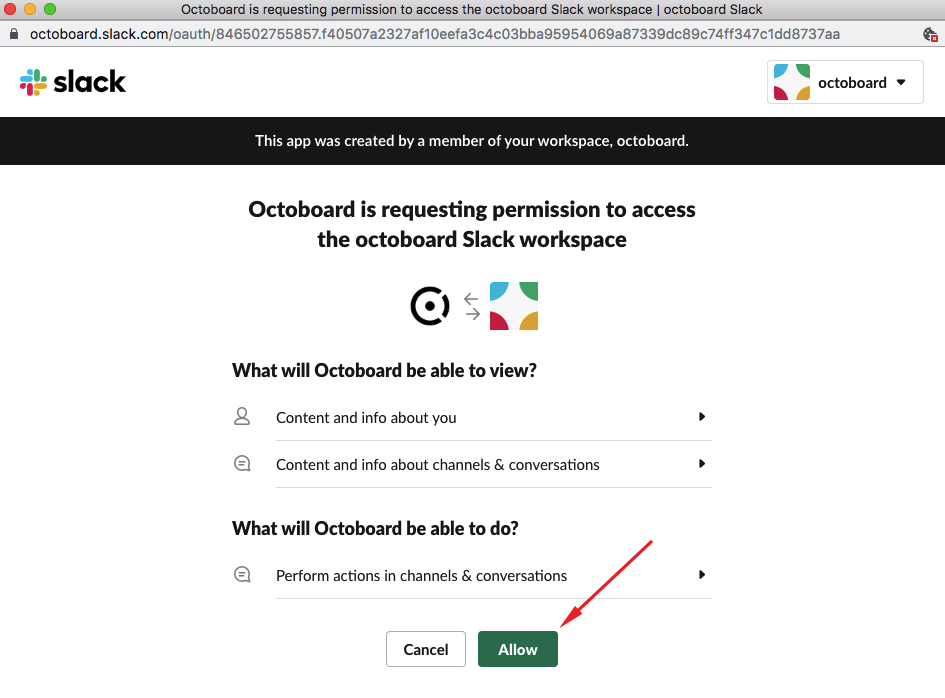 Once Slack is connected, you can configure the following parameters: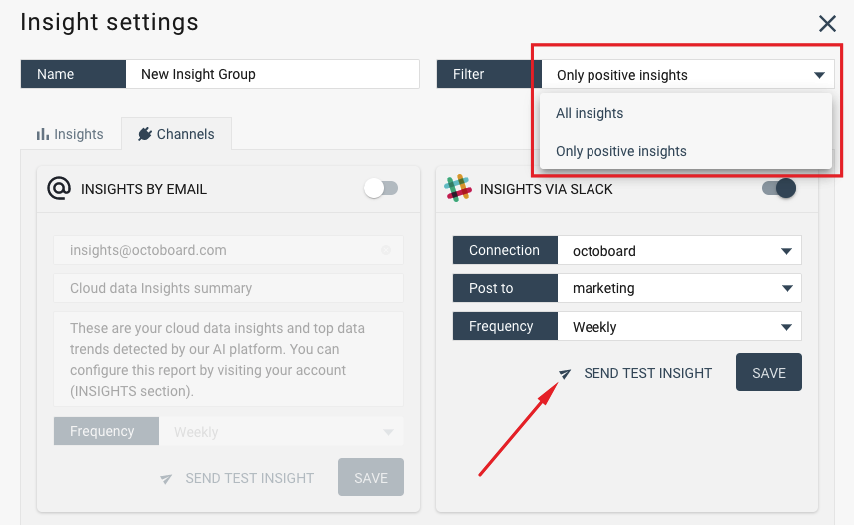 Slack channel - Slack channel to send insights to
Update frequency - weekly or monthly updates frequency
We added "Positive Insights Only" filter that can be used for configuring any insight group and insight updates.
If the "Positive Insights only" filter is selected, Octoboard will send insights that show positive trends only. For instance, Octoboard monitors cities of your website visitors. If you configure positive insights filter, our platform will report cities that increased activity in the monitored time period. Please note, that if you only have negative trend changes in the monitored period, you will not receive update for that period.
To see what trends are reported in each case, please use "SEND TEST INSIGHTS" button for Email or Slack channel.
You can always disable insights individually. If you want to stop using Slack altogether, disconnect your Slack channel. You can do so by visiting TOP-RIGHT MENU > MANAGE ACCOUNT... > Slack Tab. Click "DELETE" button to disconnect Slack from your Octoboard account.