Knowledge Base
EMAIL CONFIGURATION
How to configure hosted email service
Any user with administrator role can configure standard emails that are sent by Octoboard platform. It is also possible to define how standard emails are distributed - either from octoboard.com domain, from analytics-repot.com, from your own email/SMTP server of by using our Hosted Email Service.
Custom Email Templates and Custom Email Server configuration are premium features. They are available to clients on Octoboard for Business TEAMS and Octoboard for Agencies TEAM plans.
To access standard emails and to configure custom email server, you need to go to "Left Menu > Settings > Email > SMTP > Emails Tab".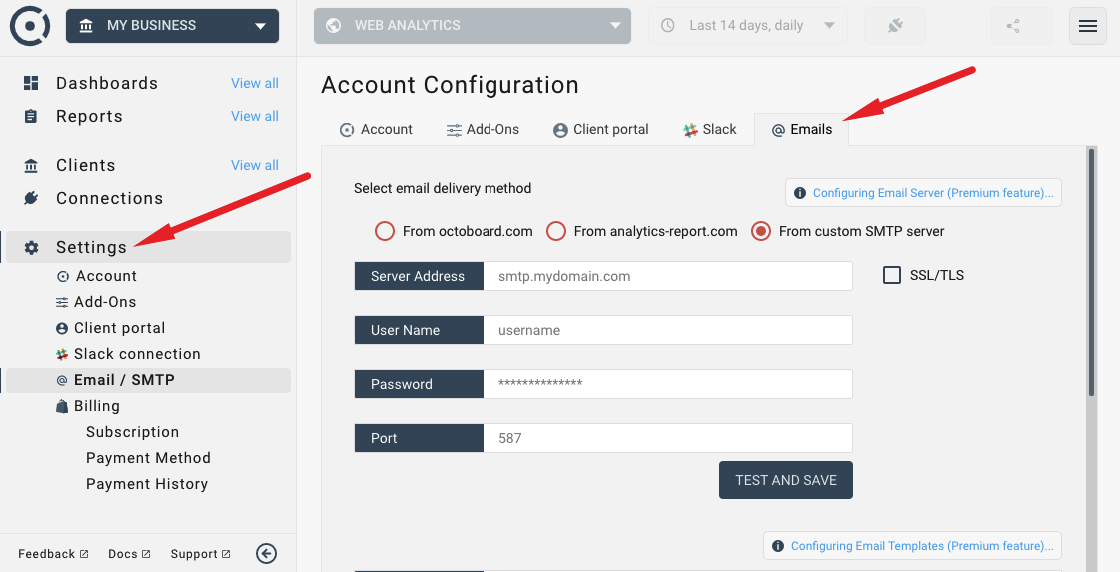 To use our hosted SMTP Service, you will need to add a few DNS records in your domain configuration. These changes should be made by your web administrator. Why do you need to do that?
To prove that you are an authorized sender for the domain
То establish a positive email reputation for your own domain
Go to LEFT MENU > Settings > Email / SMTP > Emails Tab > From Hosted Email Service option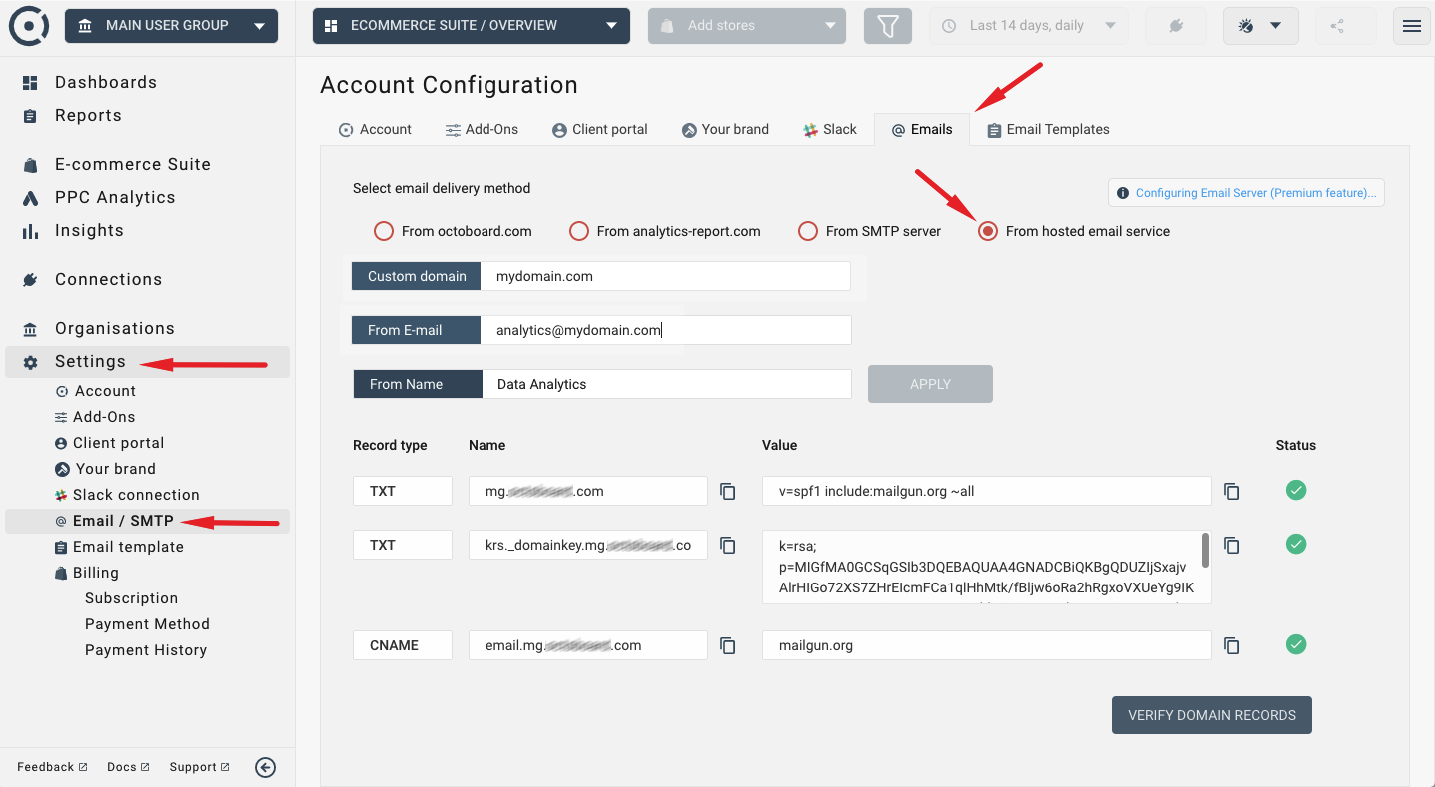 Enter the following fields and click APPLY:
Custom domain - your domain that you will send emails from
From E-mail - verified email address that will be used to send emails
From Name - "From" value that your recipients will see
After you have clicked APPLY, Octoboard will populate the DNS records that will need to be added to your domain configuration. Click "Copy to Clipboard" buttons to copy values and send them to your website administrator. Your administrator will be able to modify the DNS records for you.
Once the DNS records have been added, you can verify the configuration by clicking the "VERIFY DOMAIN RECORDS" button. If configuration have been applied correctly, you will see green icons. Your email configuration will be saved only if these DNS records have been added and validated.
It may take up to 48 hours for DNS changes to propagate. If the changes are not visible, check the configuration interface in a few hours and click the "VERIFY DOMAIN RECORDS" button again.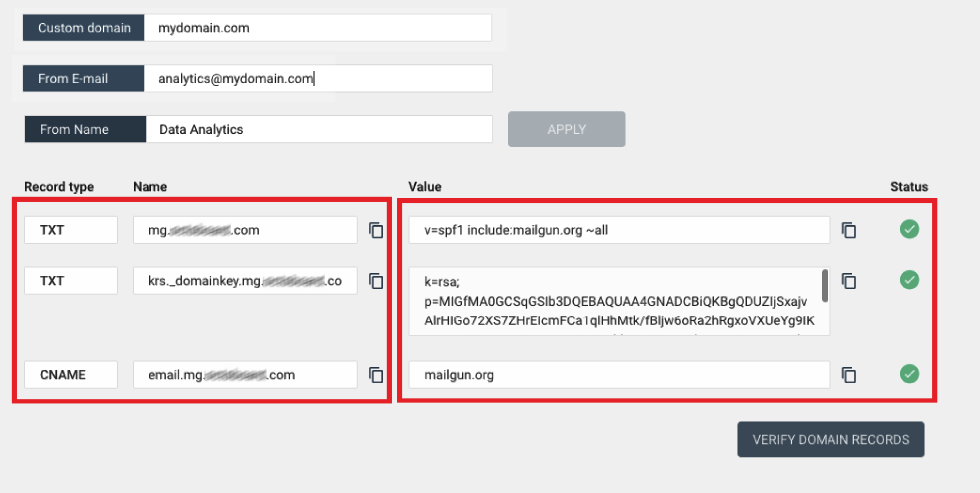 Below is an example of what the correct configuration would look like if your domain is using Cloudflare service. This may change from service to service. Your web administrator would know how to configure DNS records in your domain.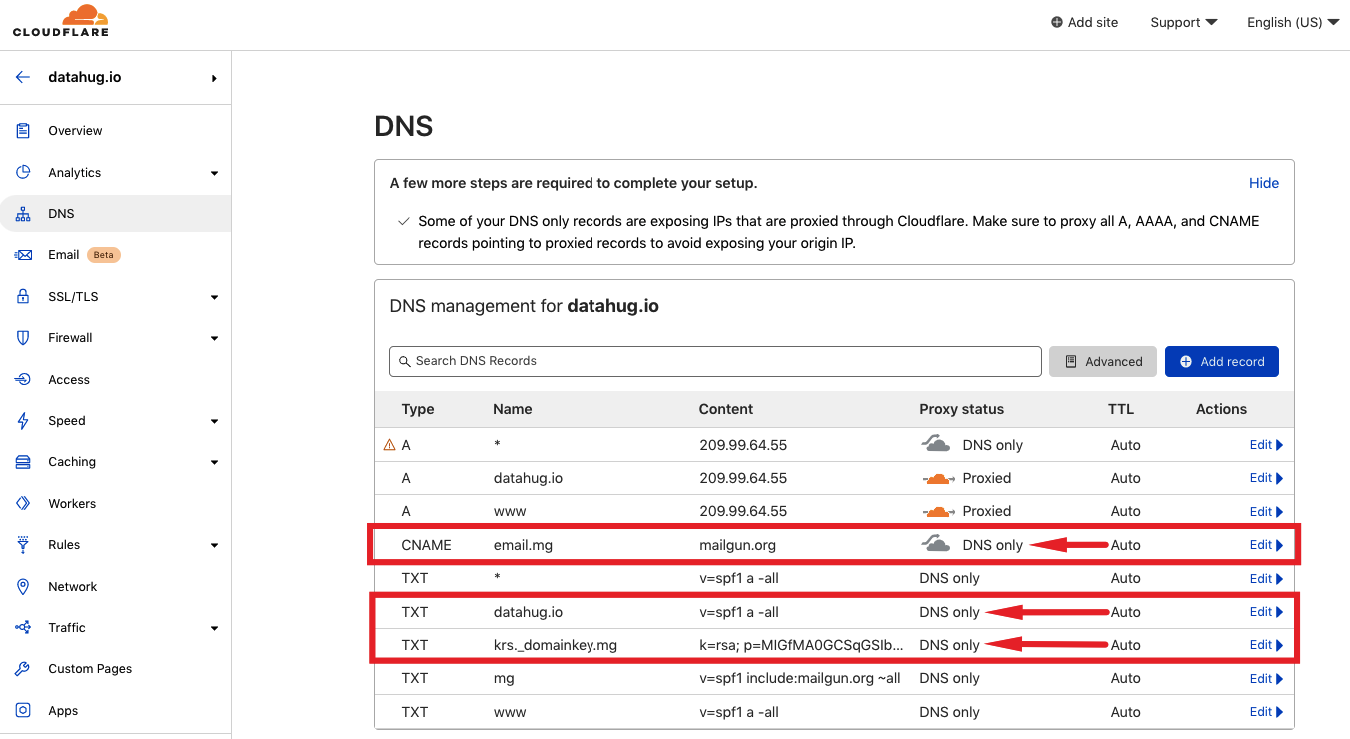 If your website is using the Cloudflaire service, make sure you enter the new records are "DNS only" as shown above.
To test your custom email configuration, click the SEND TEST button in the Email Templates tab. Test emails will be sent to the email address that you indicated in the Test Email edit box. Please note that test emails are sent to verified email addresses only. You can always create a test user in the system and verify his or her email. If the test is successful, Octoboard will show you a confirmation note and you will receive an email message in your inbox.