Knowledge Base
EMAIL CONFIGURATION
How to configure custom email template
Octoboard platform sends the following types of emails to clients that you can configure:
EMAIL VERIFICATION - Sent when new account is created
EMAIL VERIFICATION - Sent when a new client is invited to the platform
PASSWORD RECOVERY - Sent when users forget their passwords
AUTHORISATION EXPIRED - Login authorisation required
INSIGHTS EMAIL - Regular Insights email sent to clients
SEO AUDIT REPORT - Used in Embedded SEO Forms to deliver SEO Audits
SEO AUDIT LEAD NOTIFICATION - Used to each time you generate a SEO Audit Lead
Custom templates and Email server configuration are premium features. They are available to clients on Octoboard for Business TEAMS and Octoboard for Agencies TEAM plans.
When you open ACCOUNT CONFIGURATION > EMAIL Tab, you will see the following configuration panel:
In this interface you can select the email template that you would like to configure and change any text. You reset any template to original configuration by clicking RESET button.
To test configured template, click SEND TEST button and a test email will be send to the email address that you indicated in the Test Email edit box. Please note that test emails are sent to verified email addresses only. You can always create a test user in the system and verify his or her email. If the test is successful, Octoboard will show you a confirmation note and you will receive an email message in your inbox. Here is an example of a test Insights email: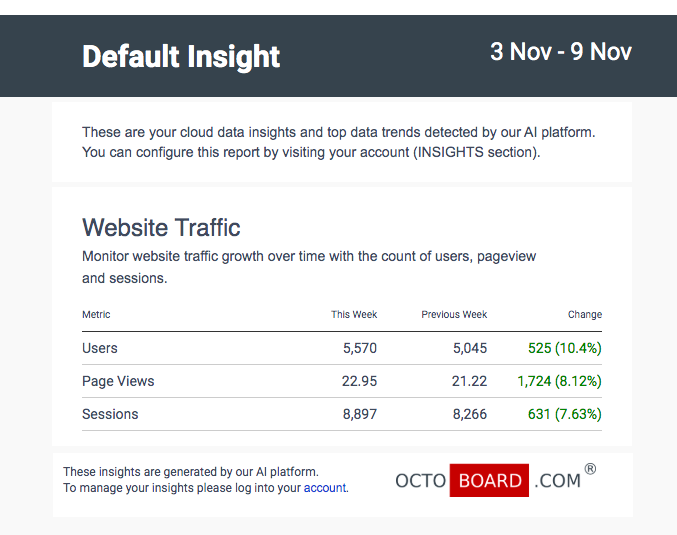 For more information on data insights in Octoboard, please read our Knowledge Base post on how to send automated Insights by email and Slack.
Test emails are sent from either octoboard.com, analytics-report.com or your own domain that can be configured in the top area of the screen.
For an overview of the Octoboard white label options and features please
read this tutorial
. We offer custom email templates, white label url links, custom logos, custom report headers and footers, white label client portals, white label dashboard and report sharing options and other features as free add-ons in all our premium plans.