Top Social Media KPIs for automated marketing reports
Social Media Metrics give you insights into your marketing performance. They help you spot trends and get insights to make informed decisions and achieve your business goals. It's hard to tell if you are on the right track unless you monitor your progress. That is why it is important to measure your performance and monitor metrics regularly. Automated marketing reports are a good solution in this case.
Reporting is essential for marketers and agencies, but it is also time-consuming. Below are a few metrics that are easy to report with automated platforms such as Octoboard.

It is essential to track what your audience reads and reacts to. In order to monitor post popularity on Facebook, add PERFORMANCE, LATEST POSTS and TOP POSTS metrics to your report. For Twitter, measure PERFORMANCE, LATEST TWEETS and TOP TWEETS widgets. Post metrics on Instagram, Facebook and VKontakte are LATEST POSTS and TOP POSTS. Widgets you should add for LinkedIn post monitoring also include LIKES, COMMENTS, SHARES and CLICKS. YouTube and Pinterest metrics are called a bit different: LATEST VIDEOS, TOP VIDEOS and LATEST PINS, TOP PINS and TOP BOARDS.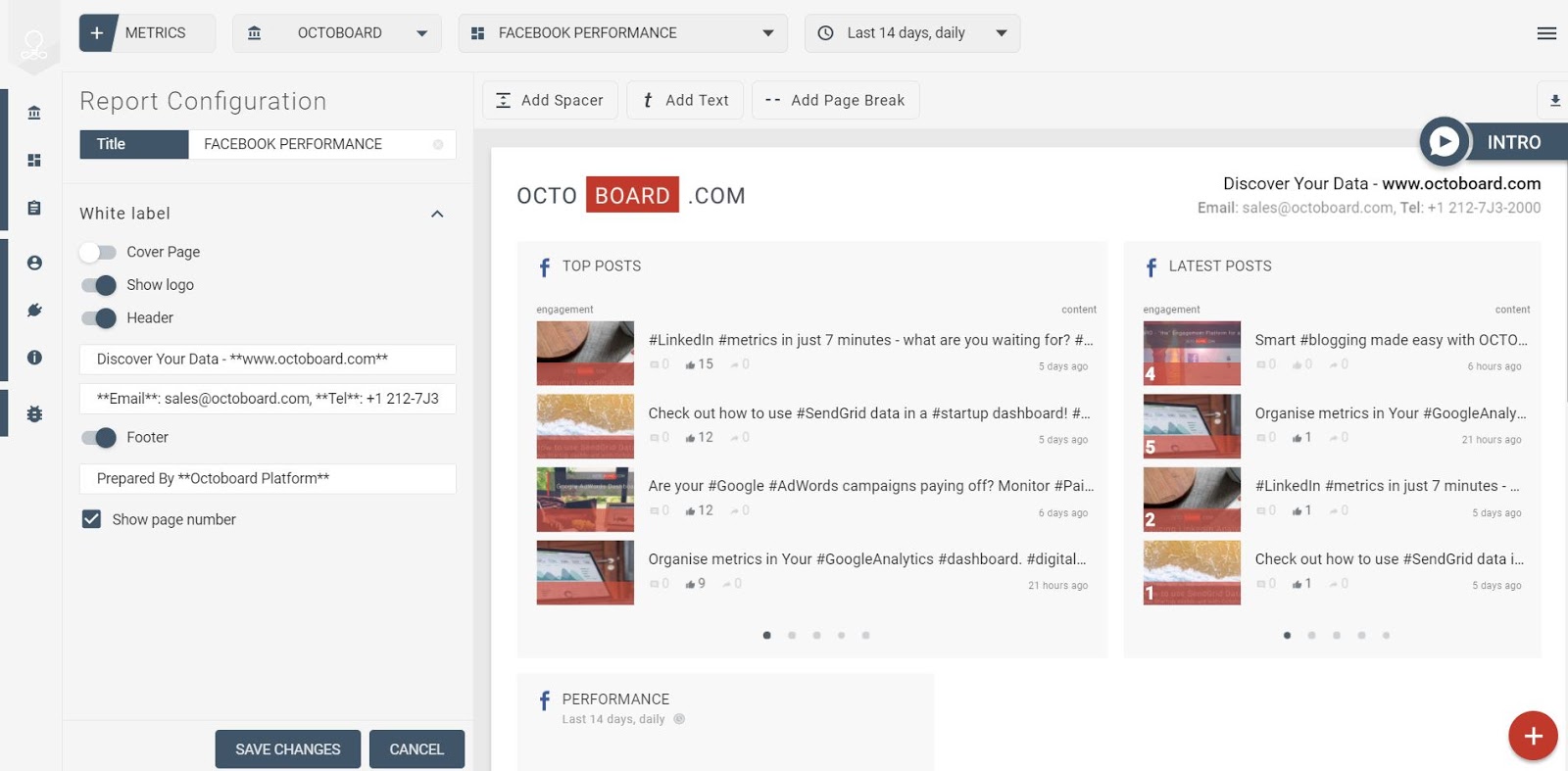 Know your audience - that is probably one of the vital things for marketers and businesses. Here are metrics to follow to get that knowledge. Facebook provides a number of useful metrics and KPIs for audience monitoring: FRIENDS BY REGION, AGE AND GENDER, FANS, FANS BY LANGUAGE and FANS BY CITY. Twitter and Instagram metrics are not so extensive, they only include FOLLOWERS and FOLLOWING. The same goes for Pinterest. LinkedIn, on the other hand, enables you to monitor FOLLOWERS BY COMPANY SIZE, FOLLOWERS BY LOCATION, FOLLOWERS BY INDUSTRY, FOLLOWERS BY JOB FUNCTIONS and FOLLOWERS BY SENIORITY. LinkedIn KPIs will help define your target audience and add value to your Social Media Audience report. YouTube provides such metrics as SUBSCRIBERS and AGE AND GENDER. As for VKontakte, you can add PROFILE FRIENDS BY REGION, COMMUNITY MEMBERS BY REGION, COMMUNITY VISITORS BY REGION, PROFILE GENDER, MEMBERS GENDER stats and more. VKontakte provides separate metrics for PROFILES and COMMUNITIES, and it is a good idea to have both to represent your company on that Social Media.
Reach is a great metric. It tells you how many people are shown (reached by) your content. Not all social networks report user counts. Instead, they report counts of views or impressions. Use reach metrics to evaluate and fine-tune your content strategy. Facebook reach metrics are extensive and include IMPRESSIONS AND REACH, REACH AGE AND GENDER, PAID VS ORGANIC REACH, IMPRESSIONS PAID VS ORGANIC and VIRAL REACH. The same goes for VKontakte - it is very easy to spot content reach trends monitoring COMMUNITY UNIQUE VISITORS, COMMUNITY VISITS PER DAY, COMMUNITY DAILY REACH, COMMUNITY IMPRESSIONS PER DAY, COMMUNITY GROUP IMPRESSIONS, COMMUNITY NEW SUBSCRIBERS and COMMUNITY UNSUBS. Reach metrics for LinkedIn are IMPRESSIONS and FOLLOWERS. As for YouTube, add VIEWS BY DAY, VIEWS BY COUNTRY and VIEW DURATION to your automated marketing reports.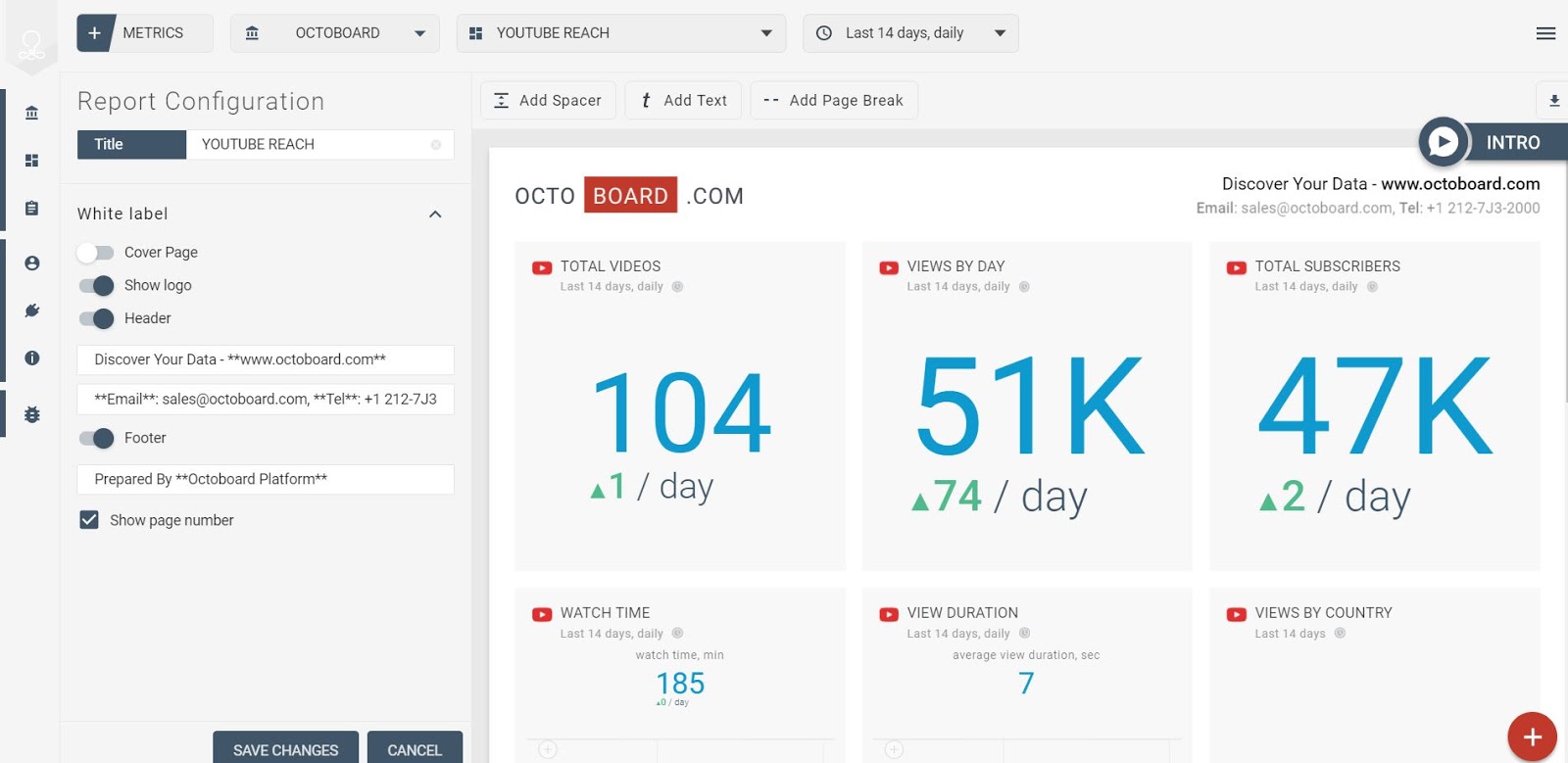 Traffic sources tell you what websites and social networks your audience comes from. Analyze it over time and use insights to understand what drives your traffic and where to focus your efforts to maximize it. Facebook provides a useful metric called REFERRERS. For YouTube, it is a good idea to track and report TRAFFIC SOURCES widget.
Engagement shows how much people interact with your content. Users' comments, shares, likes, and other actions influence Engagement. Higher engagement is a sign of great content, that is why it is important to pay attention to these metrics. Engagement rate is calculated relative to the number of followers a company has on social media (or a number of views). ENGAGEMENT and ENGAGEMENT RATE metrics are available to report with Octoboard for all the popular Social Media.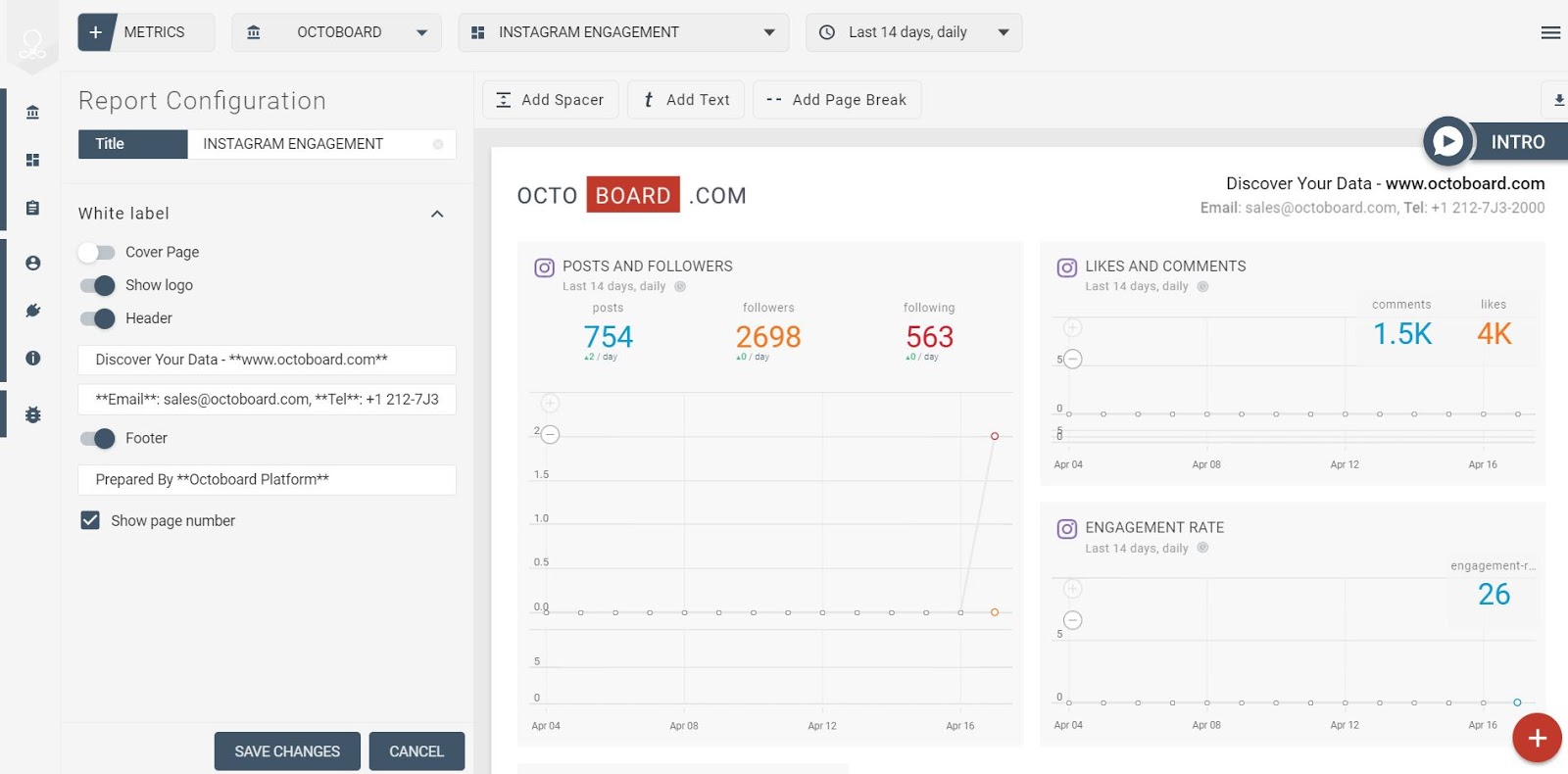 It is a good idea to monitor and report your competition. Certain Social Media networks give us such opportunity - you can see how your competitor is doing and add this information to your marketing agency report for Twitter, Instagram. YouTube, Pinterest, and VKontakte.
Octoboard provides a range of metrics to measure and report your paid ads efforts in Facebook Ads and LinkedIn Ads. IMPRESSIONS PAID VS ORGANIC and PAID VS ORGANIC REACH metrics (the full list of metrics is available here) will help you see whether or not it is wise to keep investing in Facebook Ads. For LinkedIn Ads, add CAMPAIGNS, CONVERSIONS, CLICKS AND IMPRESSIONS, CTR, COST, CONVERSION RATE, CPC and ROA metrics to your report.
Marketing reports are vital. At the same time, creating them regularly is time-consuming and sometimes tedious. Octoboard makes it possible to create automated marketing reports to thousands of agency clients quickly and without much effort. Hundreds of marketing agencies are already using our reporting tools, so why not you? Join Octoboard today for free!