How to add ChartMogul data to your business dashboard
ChartMogul builds a subscription analytics solution for SaaS businesses who use payment platforms such as Stripe, Braintree, PayPal and others. ChartMogul calculates recurring revenue metrics and KPIs for companies who sell products and services online.
ChartMogul offers a range of statistics which fall into three main categories: management and investor metrics; sales, marketing, and customer success indicators; and finance data. Metrics can be broken down by geographic location, lead source, customer cohorts, different subscription plan types and other dimensions. Users can apply filters and custom stats to answer their specific business questions.
Data consolidation - you can connect multiple billing systems to ChartMogul.
Metrics Reporting
Revenue: Monthly Recurring Revenue, Annual Run Rate, Average Revenue Per Account and more.
Marketing and customer success statistics.
Finance: Gross Cash Flow, Net Cash Flow, Refunds.
Segmentation - compare different customer segments' performance.
Cohort analysis - study behavior of particular customer groups.
Email Notifications - get notifications via email after setting up parameters and goals for your business.
Geo-mapping - study customer behavior in different countries.
Currency conversion - ChartMogul automatically converts the MRR amount to your account's primary currency if a customer invoice is billed in a different currency.

Octoboard gives businesses access to all their statistical data in dashboards and automated reports to teams and clients. With ChartMogul integration it becomes very easy to display and monitor your revenue statistics.
With Octoboard you can combine ChartMogul data with your social media data, web analytics, blog metrics, paid advertising KPIs from Google Analytics, Facebook, Twitter, Google AdWords and other cloud platforms.
Monitoring your business indicators becomes easier and faster with one unified view that updates automatically even after you log out from Octoboard.
You can share your key ChartMogul metrics with your team members or the whole organization - use our TV dashboard feature to present data in your office.
TV Mode Loop feature is now available to Octoboard users, allowing you to present different dashboards in one loop displaying data from ChartMogul, Google Analytics, Social Media, Google Sheets and other cloud platforms for a selected time period.
To setup Octoboard-to-ChartMogul connection, follow 3 simple steps. It will only take 1 minute!
Connect to ChartMogul
Select ChartMogul metrics to display or use Octoboard templates
Add them to your dashboard
Octoboard displays key ChartMogul data metrics:
ARR (Annual Run Rate)
ARPA (Average Revenue Per Account)
LTV (Customer Lifetime Value)
Customer Churn Rate
MRR (Monthly Recurring Revenue)
The number of Active Customers in your account.
ASP (Average Sales Price)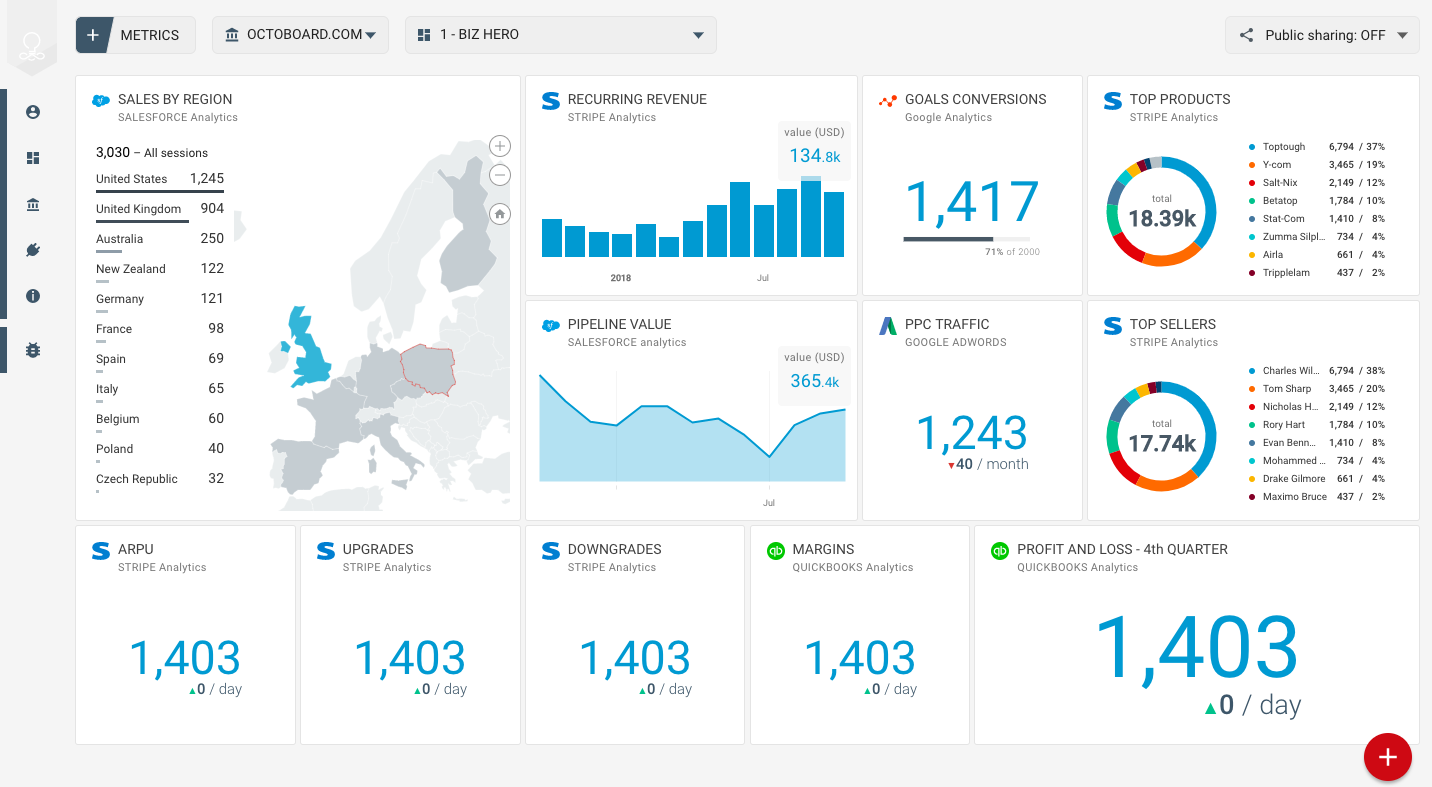 Startups and investors use Octoboard's ChartMogul for investors template to communicate key financial figures. It makes it easy to regularly check the performance of their own or other companies. This is one more way to save time with Octoboard.
Track your key subscription metrics without effort and the need to log in different platforms all the time. Create business dashboards for your organization in minutes. Combine ChartMogul financial data with Sales, Marketing and Operations metrics. Join Octoboard today - it is free!