Add Facebook data to a Marketing Agency client report
Marketing Agencies spend hours and hours creating reports for their clients. It is surely a process that takes time - collecting data weekly, organizing it, creating graphs and charts and then building the reports. And although reports are essential for the clients, they often spend just over 1/10th of the time that you put into it.

Reports are indeed very important. When done properly they will impress customers and showcase the results of your hard work. How to make the process of creating reports effective? There is only one answer to this question. Automation!
A lot of Marketing Agencies automate the process of creating client reports to save time and money. We at Octoboard help Marketing Agencies reduce the number of hours required to gather the data and create regular reports. With Octoboard, agencies dedicate more time to what really matters - creating successful campaigns for clients and win new business.
Octoboard will take on the routine collecting of Facebook data for you, as well as other Social Media, Email Marketing, Web Analytics data (here's the list of our 40+ integrations). It will update the data daily and generate automated Marketing Agency reports that you can schedule and share with your clients.
To speed up the process of report generation, just pick up one of our Facebook data templates. This way, you don't have to add Facebook metrics one by one. Simply choose a time slot and click 'Send' - the template becomes a client report straight away!
Try the Overview template to monitor and report the key Facebook data metrics: PERFORMANCE, LATEST POSTS, FRIENDS BY REGION, AGE AND GENDER, FRIENDS, POST LIKES, SHARES and more.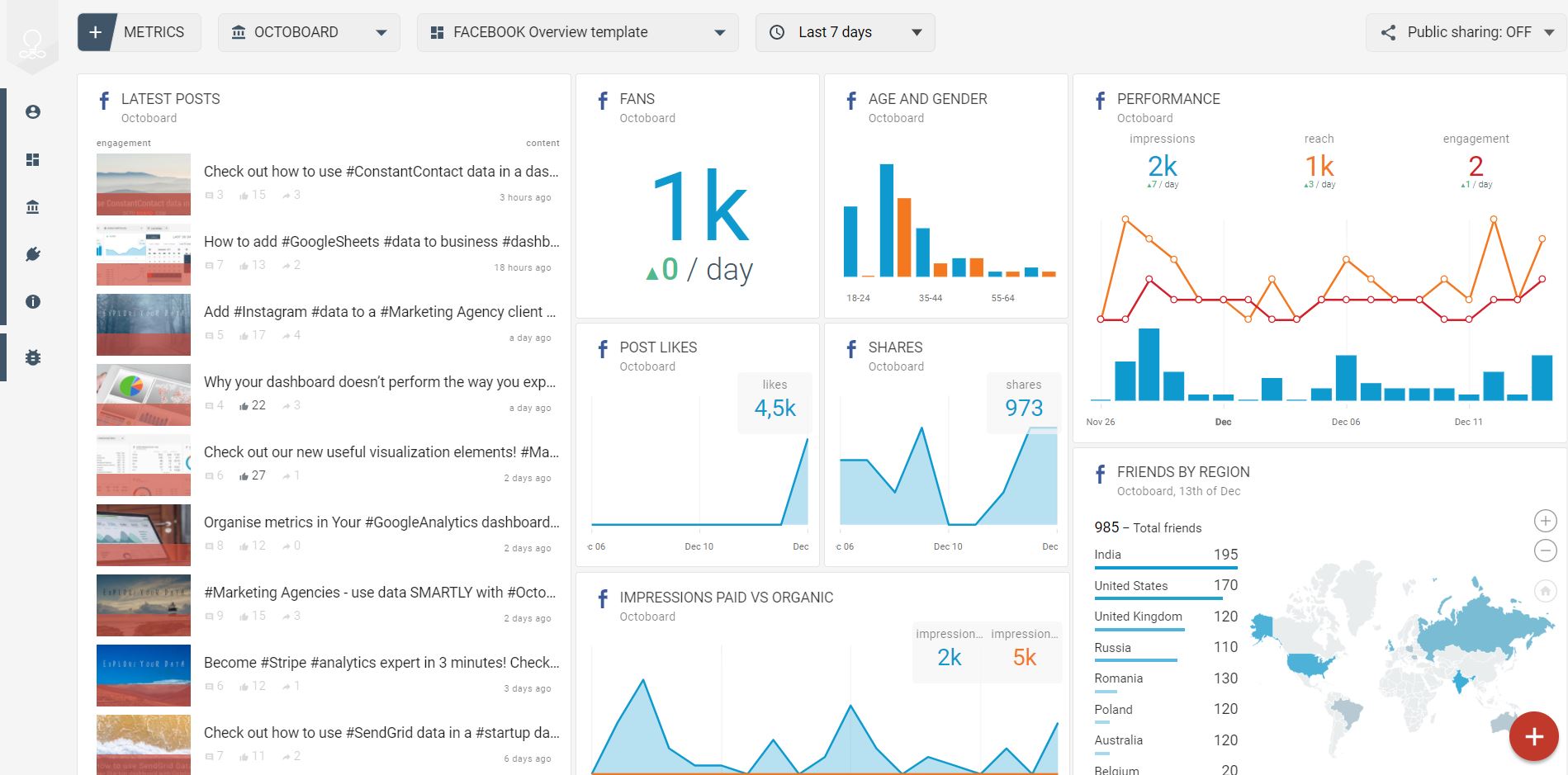 The Engagement template helps you keep track of changes in engagement over time and monitor user actions with metrics like LATEST POSTS, POST LIKES, ENGAGEMENT RATE, IMPRESSIONS AND LIKES, COMMENTS, SHARES and others.

Who comes to your site? Our Facebook Audience template consists of metrics to know your audience: FRIENDS BY REGION, AGE AND GENDER, FANS, FANS BY LANGUAGE and FANS BY CITY.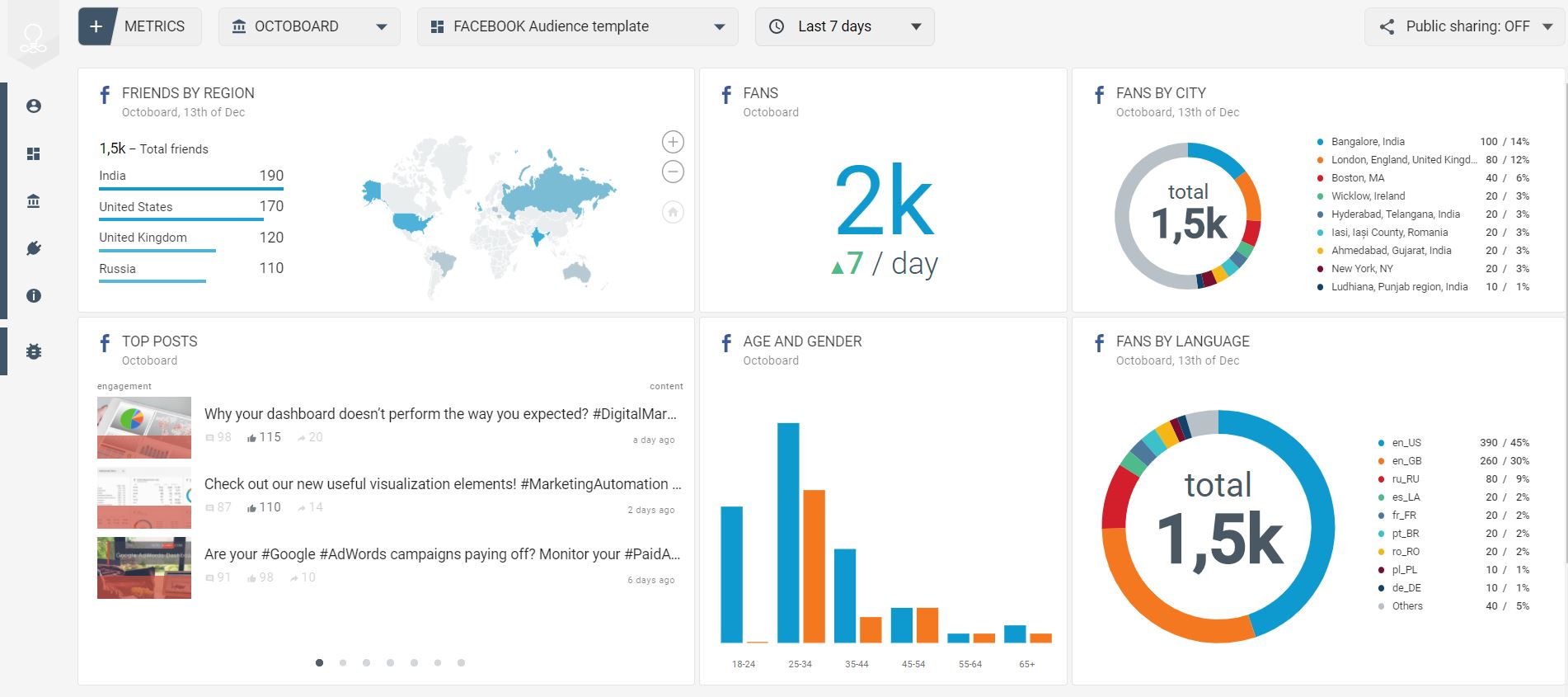 Use the Reach template as a base for your automated report that you can schedule and send to your client in under 5 minutes. This template includes IMPRESSIONS AND REACH, REACH AGE AND GENDER, PAID VS ORGANIC REACH, IMPRESSIONS PAID VS ORGANIC and VIRAL REACH metrics.
Apart from the preconfigured templates, there is a wide range of Facebook data metrics that Octoboard provides. Metrics can be presented on a dashboard and added to a report for a more in-depth analysis.
Add PERFORMANCE, LATEST POSTS and TOP POSTS metrics to monitor your post popularity in real time.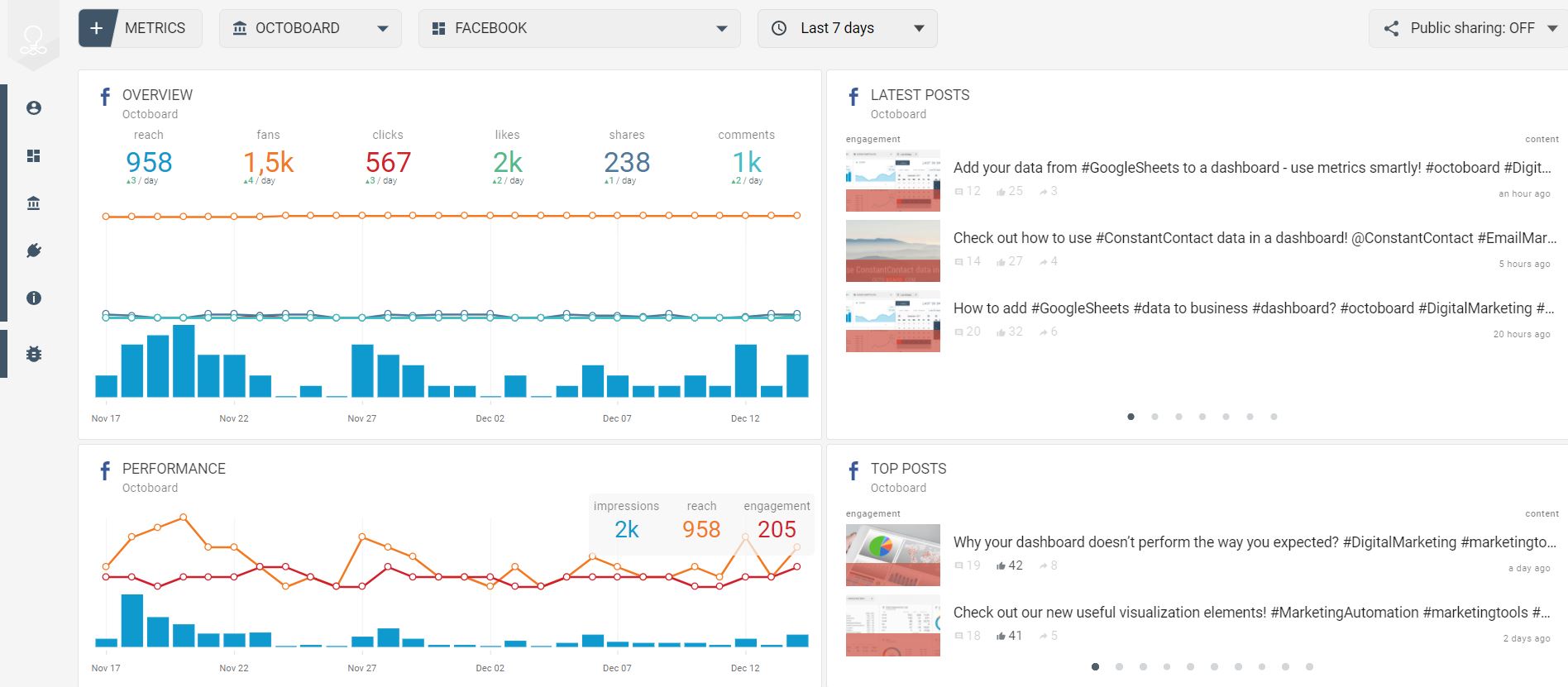 IMPRESSIONS PAID VS ORGANIC and PAID VS ORGANIC REACH metrics will help you see whether or not it is wise to buy Facebook Ads.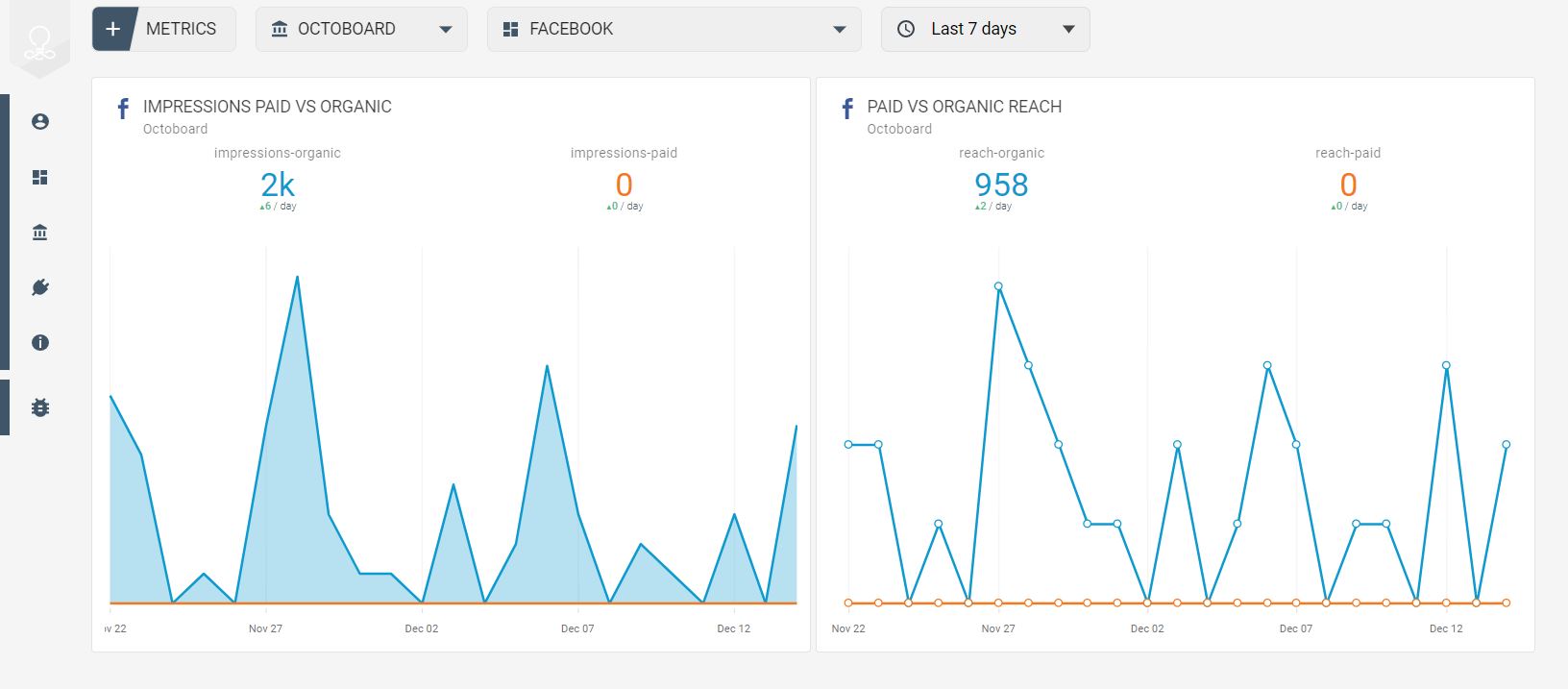 Keep track of your audience positive and negative feedback.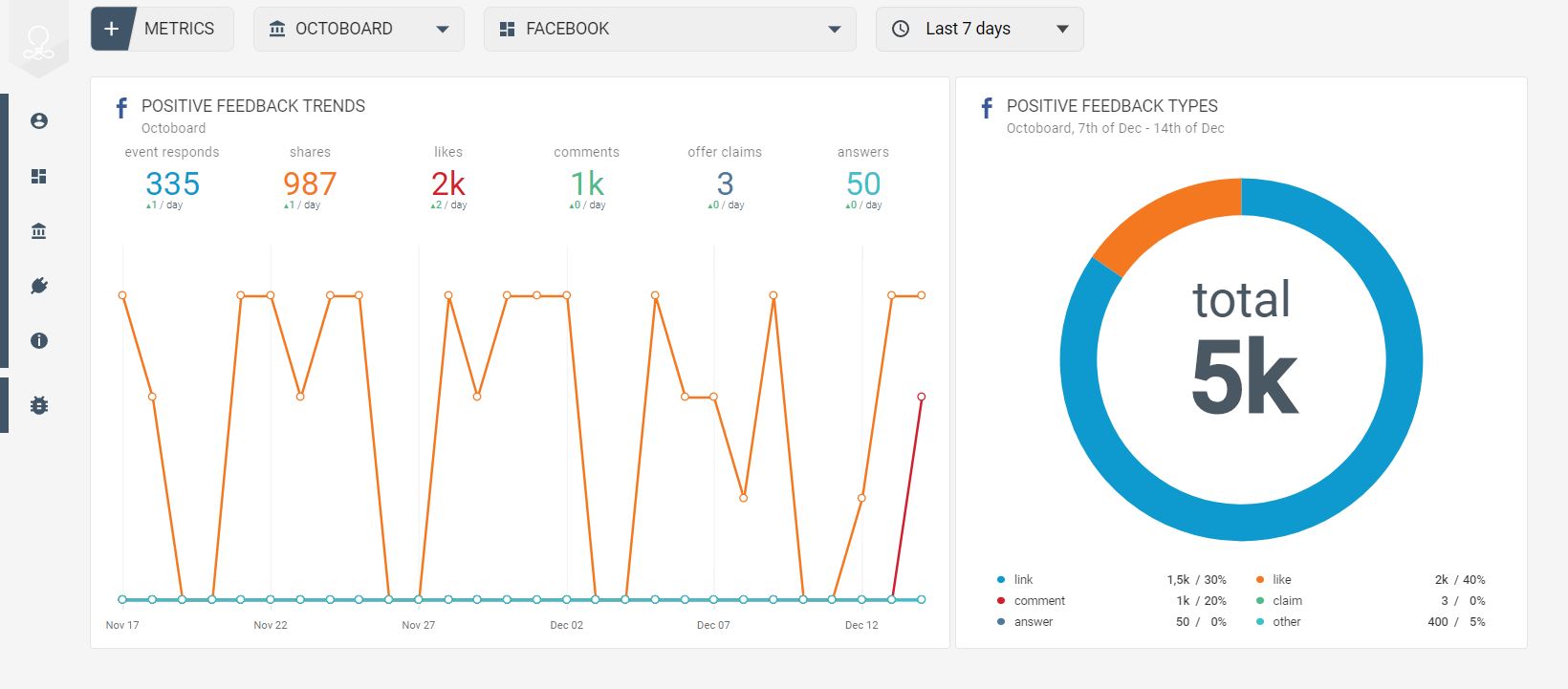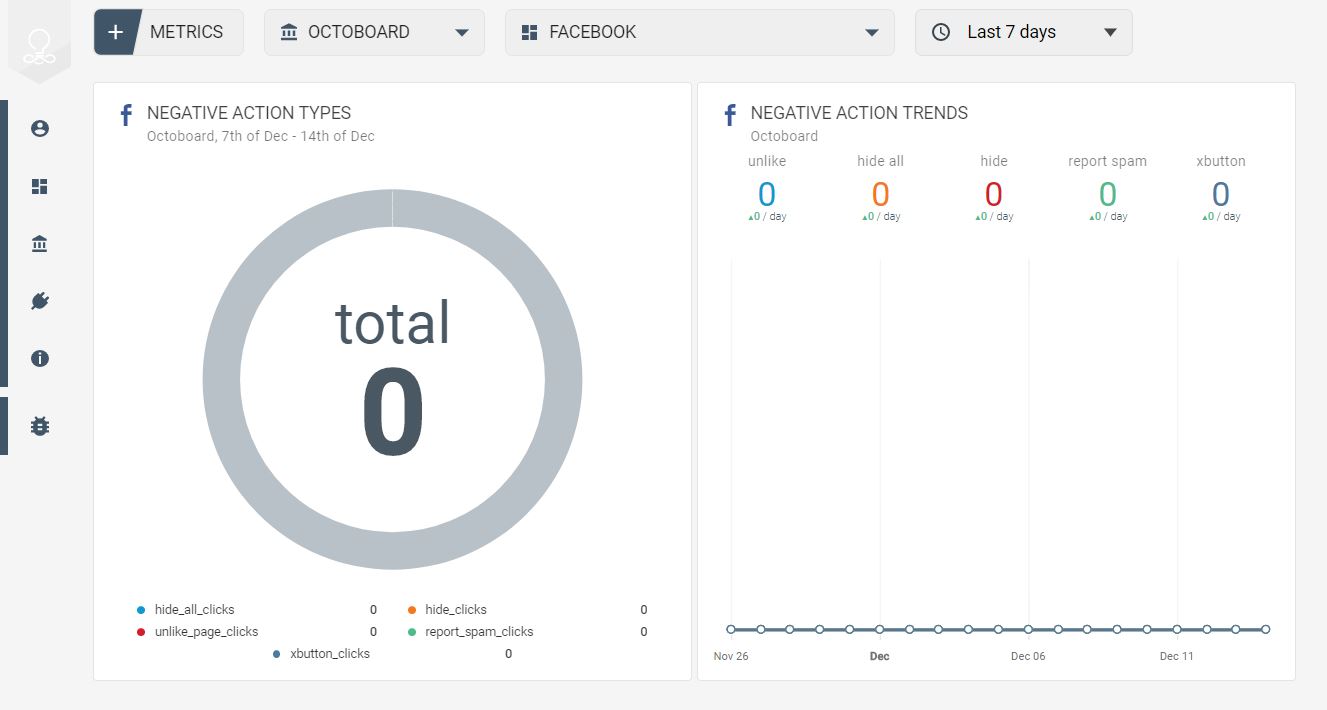 Bring Stories metrics together to monitor them on a dashboard or report them to your clients.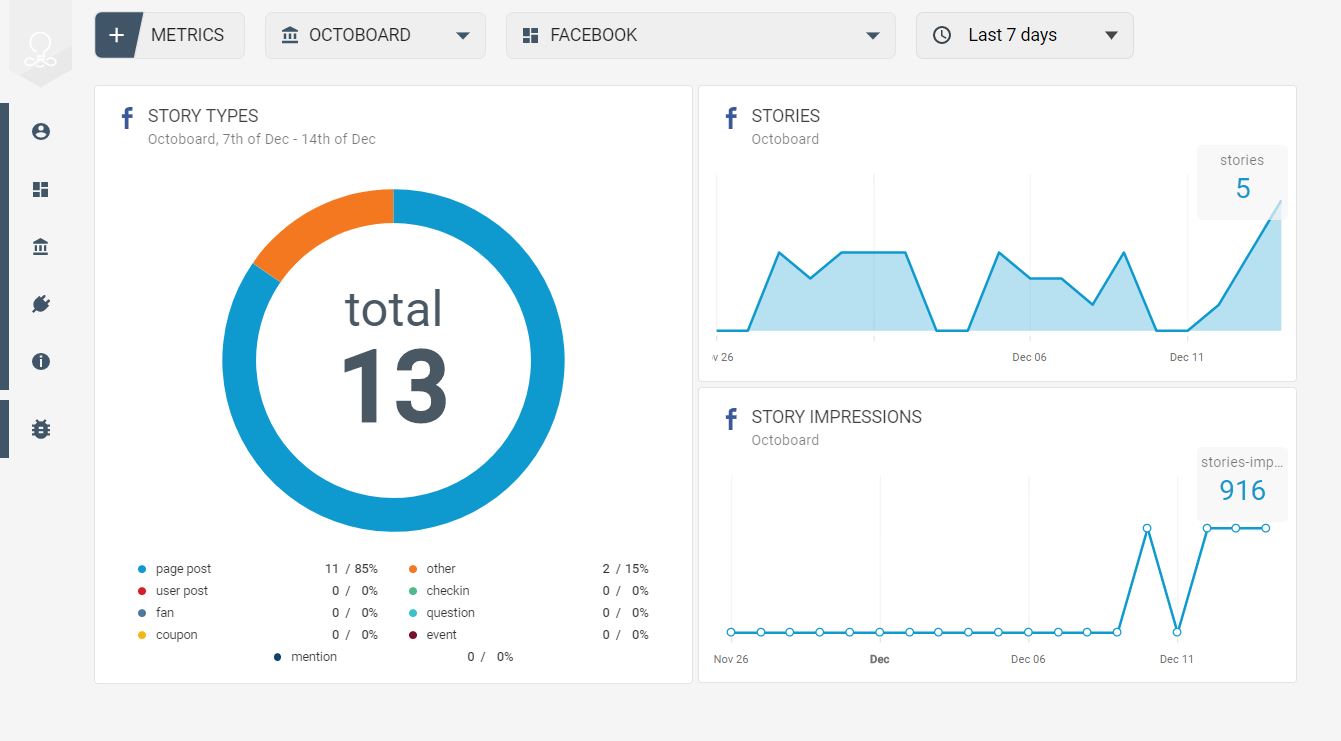 Monitor all the Facebook metrics and combine them with other Social Media or Web Analytics data. Share dashboards with your team and impress your clients with insightful reports!