How to add Google Analytics data to Marketing Agency client report
Clients of Marketing Agencies want value for their money and they demand updates. They want to see efforts made by agencies and, of course, they want results. They try to understand what works and provide input. This is why sending automated client reports every two weeks or monthly is an absolute must for any successful marketing agency today. Web analytics from Google is a big part of the regular client report.
Unfortunately, Google Analytics is complicated and to build a report from scratch will take hours. The only possible way for marketing agencies to provide visibility to their many clients on a regular basis is to AUTOMATE the whole process. Here is how successful agencies use Octoboard to build and send beautiful reports to thousands of their clients daily.
Here is how you could save time by generating web analytics reports from Google Analytics data automatically.
Go to Octoboard
Connect to Google Analytics
Select ready-made template
Click send
That's it! It will take you no more than 3 minutes. Octoboard will start collecting data for you immediately and will also keep updating it.
There is a number of ready-made templates where metrics are grouped by area. Here is the list of high-level Google Analytics data templates to add and configure for any client report:
Link: https://www.octoboard.com/reports/how-to-build-simple-google-analytics-report
Demographics (age, gender)
Countries
Interests
Referrals
Social Networks
Content Overview
Goal Value
Conversion
Link: https://www.octoboard.com/reports/my-website-content-popularity
Countries
Traffic Sources Overview
Social Networks
Content Overview
Time on Site
Views
Bounce Rate
Exit Rate
Link: https://www.octoboard.com/reports/who-visits-my-website
Audience Overview
Users
Sessions
Countries
Regions
Devices
Demographics
Interests,
Purchase Intents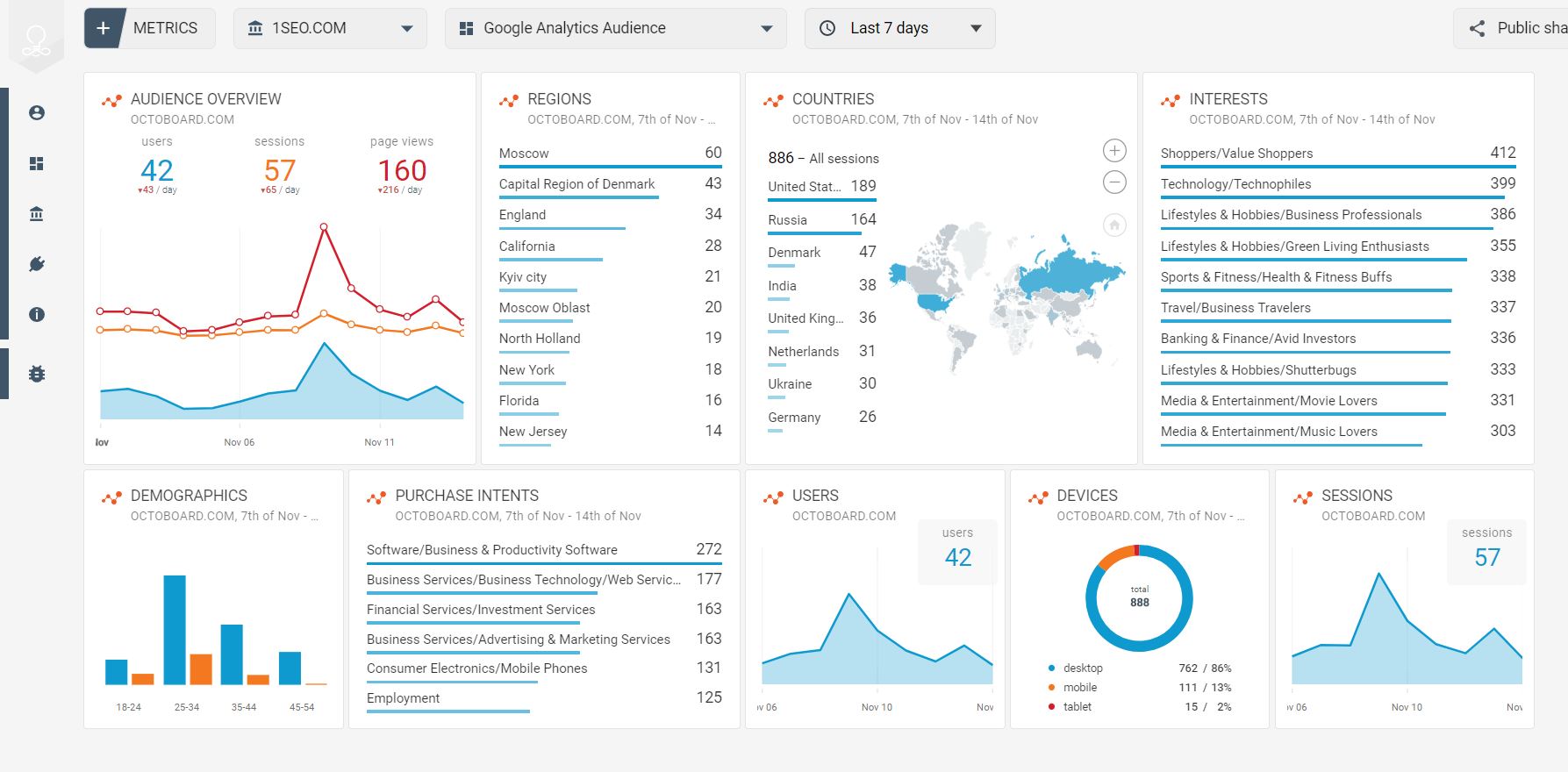 GOOGLE ANALYTICS GOALS
Link: https://www.octoboard.com/reports/how-to-monitor-google-analytics-goals
Goal Value and Conversion
Goal Completions vs Abandons
Goal Conversion
Goal Value
Goal Abandonments
Goals by Completion
All these templates can be turned into automated reports for Marketing Agencies or a dashboard for your office or desktop.
Impress your clients with great looking regular reports that arrive in their email box. They will definitely thank you for that.