Octoboard's new Google Search Console integration
Octoboard adds Google Search Console integration - yet another way to add business and marketing data to your performance dashboard!
Google Search Console is a free Google service that allows you to track your website's search positions, keywords performance and benchmarks. It helps you understand what keywords bring traffic to your site over time. It also provides an excellent insight and direction for your content marketing

With Octoboard integration, you can monitor your site's keywords performance alongside data from social networks and engagement platforms on an online dashboard. You no longer have to switch between applications to stay on top of things. This means saving time and instead dedicating your efforts to more important activities that help grow your business and marketing presence.
In Octoboard you can combine your Google Search data with our integrated applications such as Google Analytics, Yandex Metrica, Google Adwords and have a full view of your online activity and performance.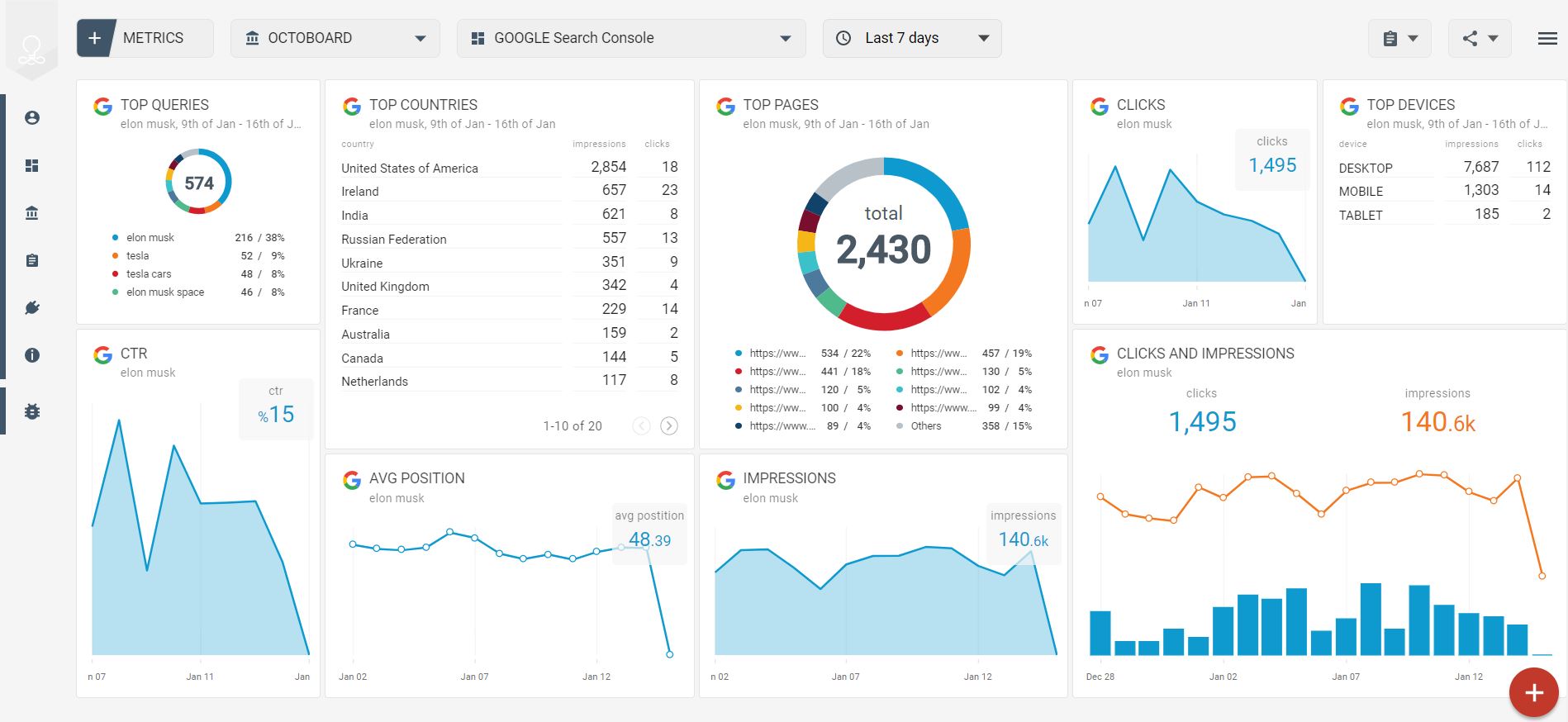 SEO Managers. Get additional insights into your website performance to make important SEO decisions and tweak content for better keywords performance.
Marketers. Being focused on online marketing, you can find a good use for Google Search Console as it will help you monitor your website traffic, track and optimize your rankings. You can combine Console data with other Google tools like Analytics and Adwords, for which Octoboard also has integrations.
Marketing Agencies. To better your lot, Octoboard invites you to use our high-level template reports that will considerably save your time. Combine all the metrics your client needs to see (here is the list of all Octoboard integrations so far, and it keeps growing!), including now Google Search Console data.
Our automated reports are designed to be easily scheduled and sent to marketing agency clients. You can add Google Search metrics from Octoboard application or choose one of our ready-made templates for reporting:
Google Console for Agencies template
Google Console Overview template
It's a good idea to use all the means available for a digital marketer. Google Search Console should certainly be in your toolkit. It's even a better idea to track all your online performance in one place and have an opportunity to access and report on it easily. Use our Google Search Console integration to add metrics to your Octoboard dashboard and make your analytics work for you.