Knowledge Base
Integrations
Configuring Facebook Ads Leads And Actions
Octoboard Facebook Ads integration allows you to display all types of Leads, Actions, Cost per Lead and Cost per Action that are provided via Facebook Ads.
You can configure individual widgets or whole dashboard and reports to display data in historical graphs, values and tables for the following Facebook Ads actions:
70+ SUPPORTED ACTION AND LEAD TYPES: All Actions, All Leads, App Installs, App Uses, Check-Ins, Post Comments, Commerce Add to Cart, Commerce Messages to Buy, Commerce Purchases, Commerce Product Views, Credit Spends, Game Plays, Landing Page Views, 3-second Video Views, Leads (Forms), Page Likes, Link Clicks, Mobile App Installs, Adds Payment Info, Adds to Cart, Adds to Wishlist, Completed Registrations, Custom Pixel Events, Initiated Check Outs, Leads, Purchases, Searches, Views Content, Post Saves, Post Shares, Post Reactions, Page Engagement, Pages Story, App Custom Event, Add to Cart, Complete Registration, Purchase, Search and over more.
With Octoboard you can display graphs and tables for ALL or ANY COMBINATION of Actions and Leads and compare your Facebook Ads performance over standard or custom time periods.
Here is an example of a dashboard that shows graphs for All Actions, Page Likes, Post Comments and a Combination of Posts and Comments: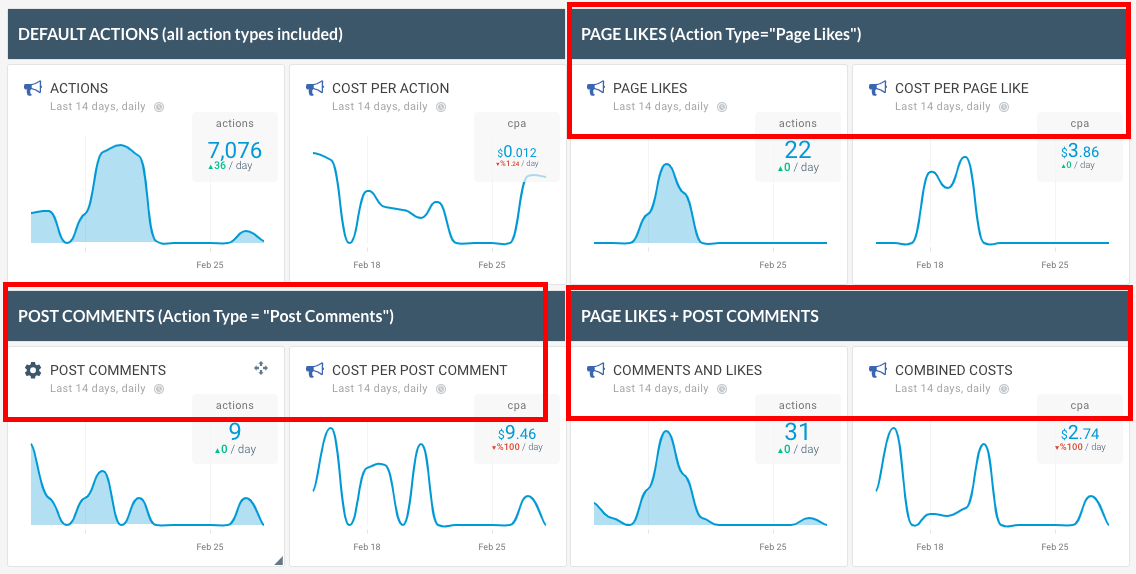 This table displays data for Facebook Ads campaigns with Actions, Leads and Cost per Actions and Leads configured for specific events:
Leads and Actions are displayed in the following widgets in Facebook Ads integration: Actions, Cost Per Action, Leads and Facebook Ads performance tables (campaigns, ad groups and others). This image shows how widgets are selected in the wizard. To invoke the wizard, use ADD WIDGET button on your dashboard (or in report while in EDIT MODE).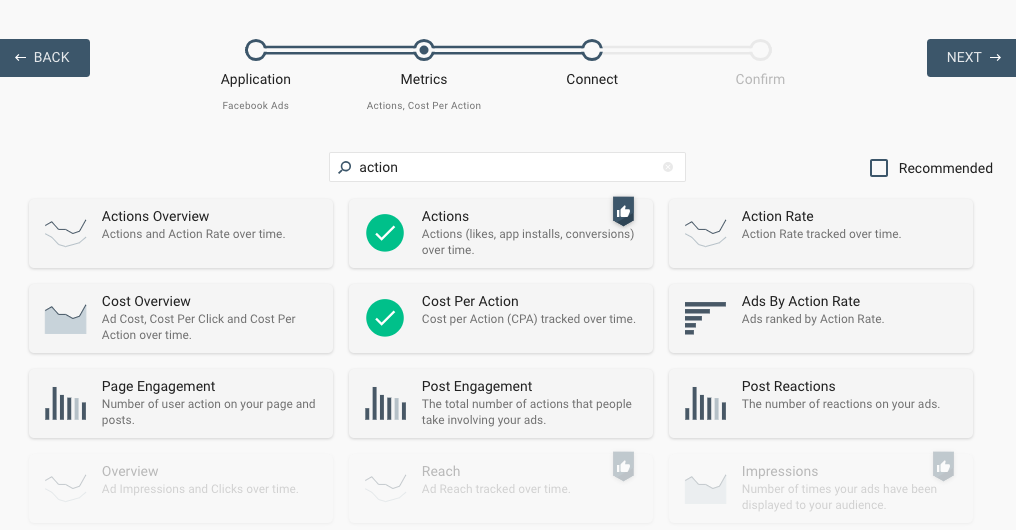 Once you have selected and placed Actions on the dashboard or report, click WIDGET MENU > CONFIG menu item: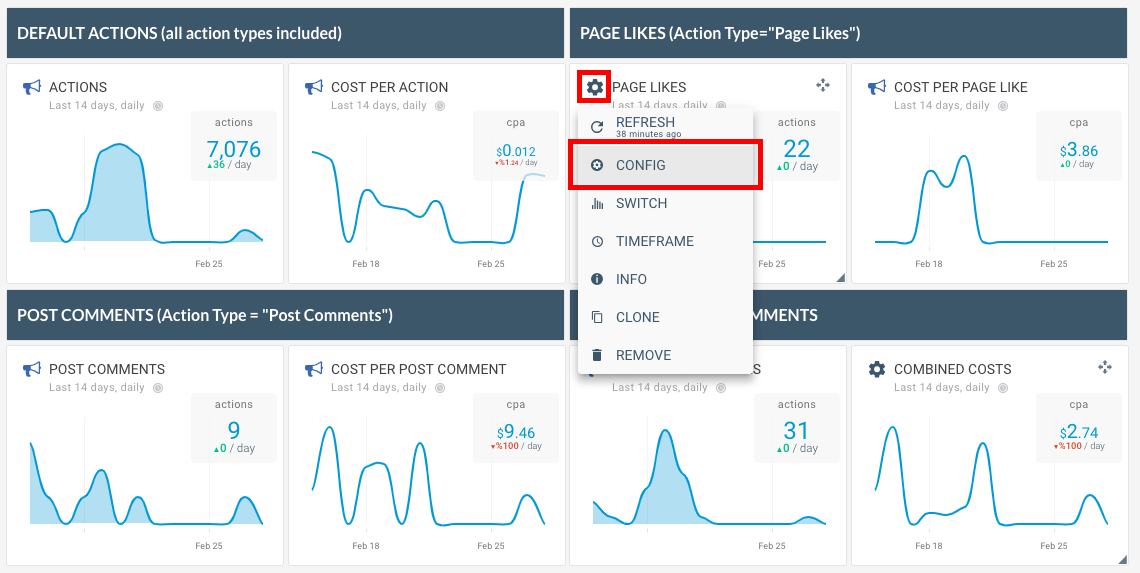 Once you click CONFIG, you will be presented with the configuration panel. In the configuration panel, scroll down and configure action type and change the name of the widget to "PAGE LIKES" or "APP INSTALLS" to match action types that you have selected. This image shows configuration of a table widget to display Actions and Cost Per Action for "App Installs" as well as Leads and Cost Per Lead to display "All Leads":
Once you have done that, the widget will use the configured options and only display data for selected Action Types and Leads.
If you have selected a dashboard or a report template and want to change the configuration of all Action and Leads widgets in one go, simply chose the right configuration when you CONNECT your dashboard and report during the creation process.
You can change this configuration later by clicking RECONNECT button at the top of your screen.
The following image shows the RECONNECT button and the configuration options for all widgets in a dashboard. Action Types configuration options will only show up if your current dashboard has widgets that use Action Types.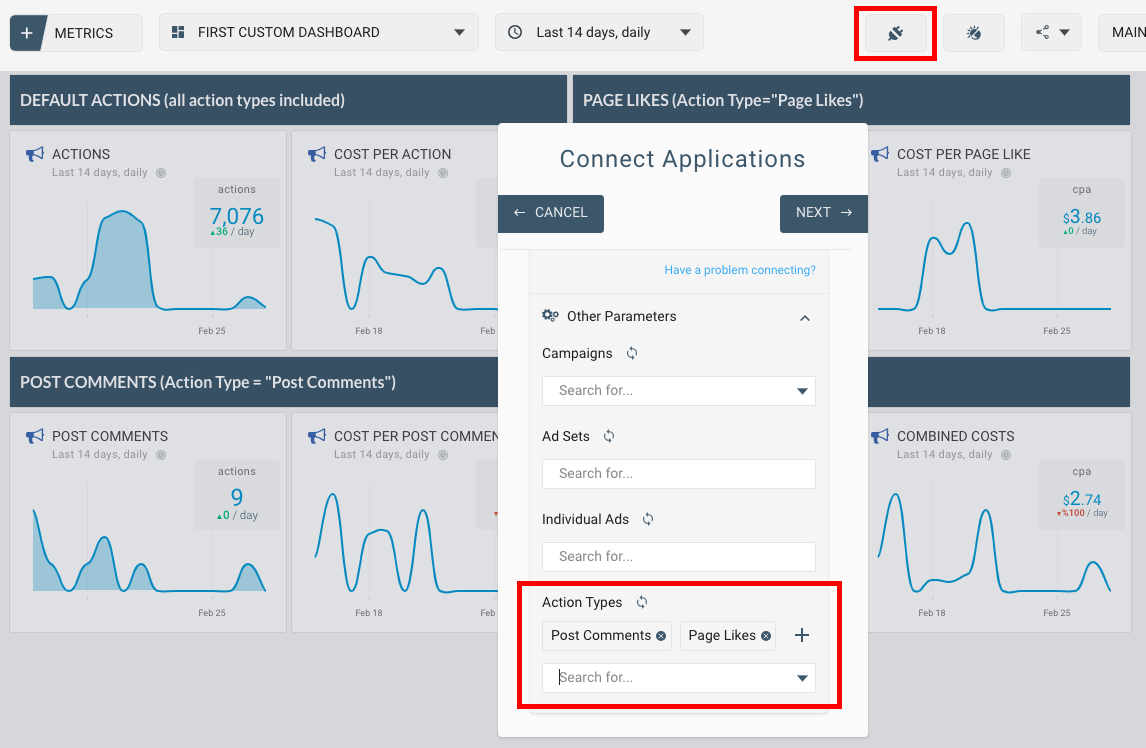 This completes our quick tutorial on how to configure Leads and Actions in Facebook Ads widgets.