Octoboard products and subscriptions
Octoboard offers two core SaaS products and optional data add-ons. Each core product and add-on is priced differently. It is important to understand what product best suits your business in order to select the right subscription. To purchase an Octoboard subscription you will need to select one of the core products. Octoboard data add-ons are optional.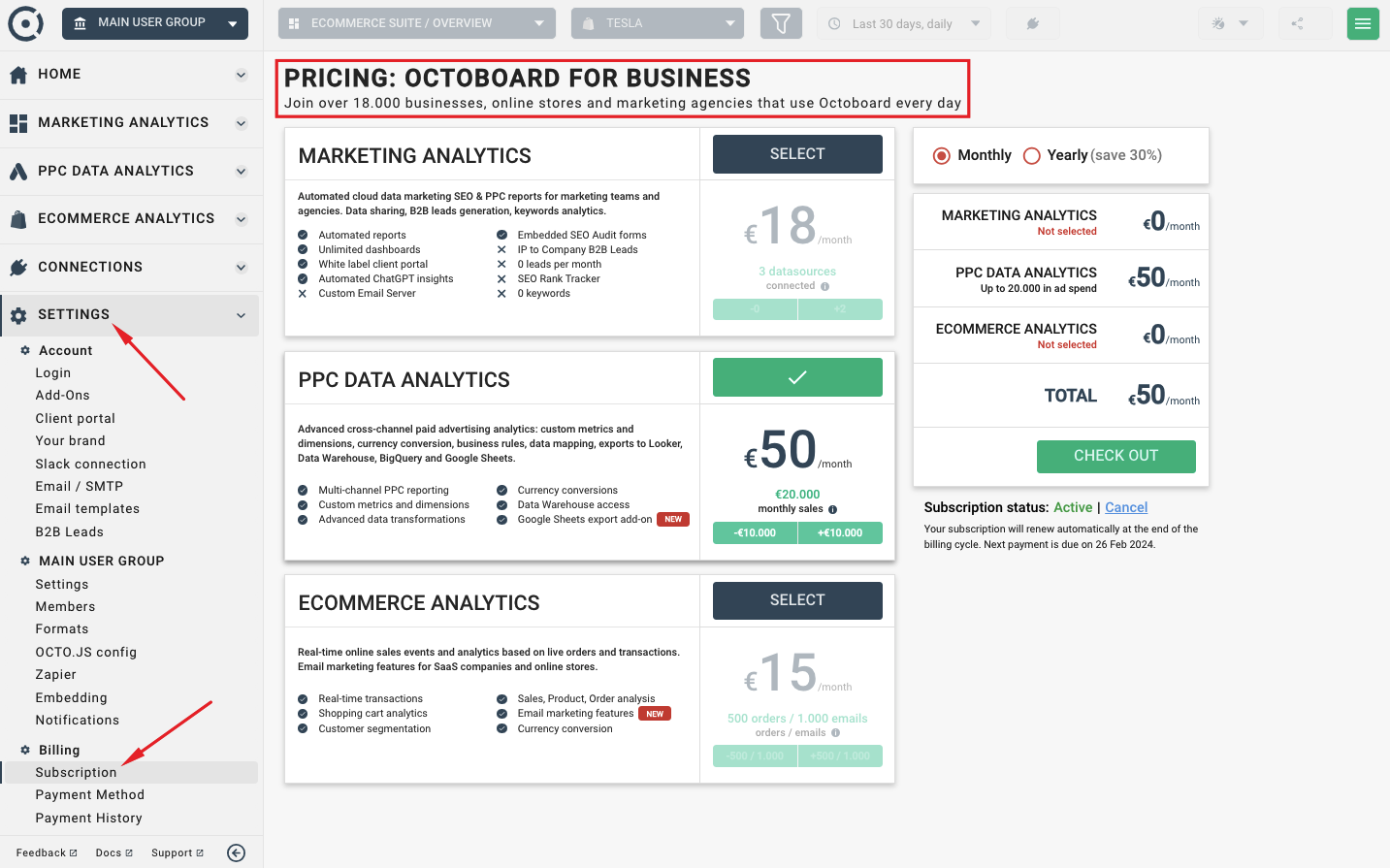 Core product: Octoboard for Business
Octoboard for Business - used by small, medium and large businesses to display data on online dashboards to share business performance metrics internally, motivate teams and achieve company goals. Designed for single business that may have multiple teams or departments, Octoboard for Business includes a set of features that facilitate sharing data with internal teams and clients.
Octoboard for Business product is charged based on the number of widgets and dashboards. Visit Octoboard for Business pricing page to view available plans. Octoboard for Business product offers real-time widgets and data integrations.
Core product: Octoboard for Agencies
Octoboard for Agencies - used by marketing agencies to save time and win new clients by creating online portals, to generate and automatically distribute SEO, PPC and other client marketing reports.
Octoboard for Agencies product is charged based on the number of marketing agency clients. Visit Octoboard for Agencies pricing page to view available plans.
Octoboard for Agencies product includes 60+ integrations and databases except for Real-Time website traffic data. Octoboard for Agencies does not offer real-time widgets (event-based data such as online website traffic events, or real-time support tickets). Zapier widgets can still be created in Octoboard for Agencies.
With every product, you can purchase monthly or yearly subscriptions. Every product comes with a no-obligation 14-day trial. Yearly subscriptions include a 30% discount.
Data add-on: E-commerce Suite
E-commerce Suite - used by marketing agencies and online businesses to create real-time dashboards and build automated data reports that can be shared via Slack, by email or as part of client portals.
E-commerce Suite data add-on is charged based on the number of orders (invoices) paid monthly in all connected stores. For more details please the following links on E-commerce Suite configuration and E-commerce Suite pricing.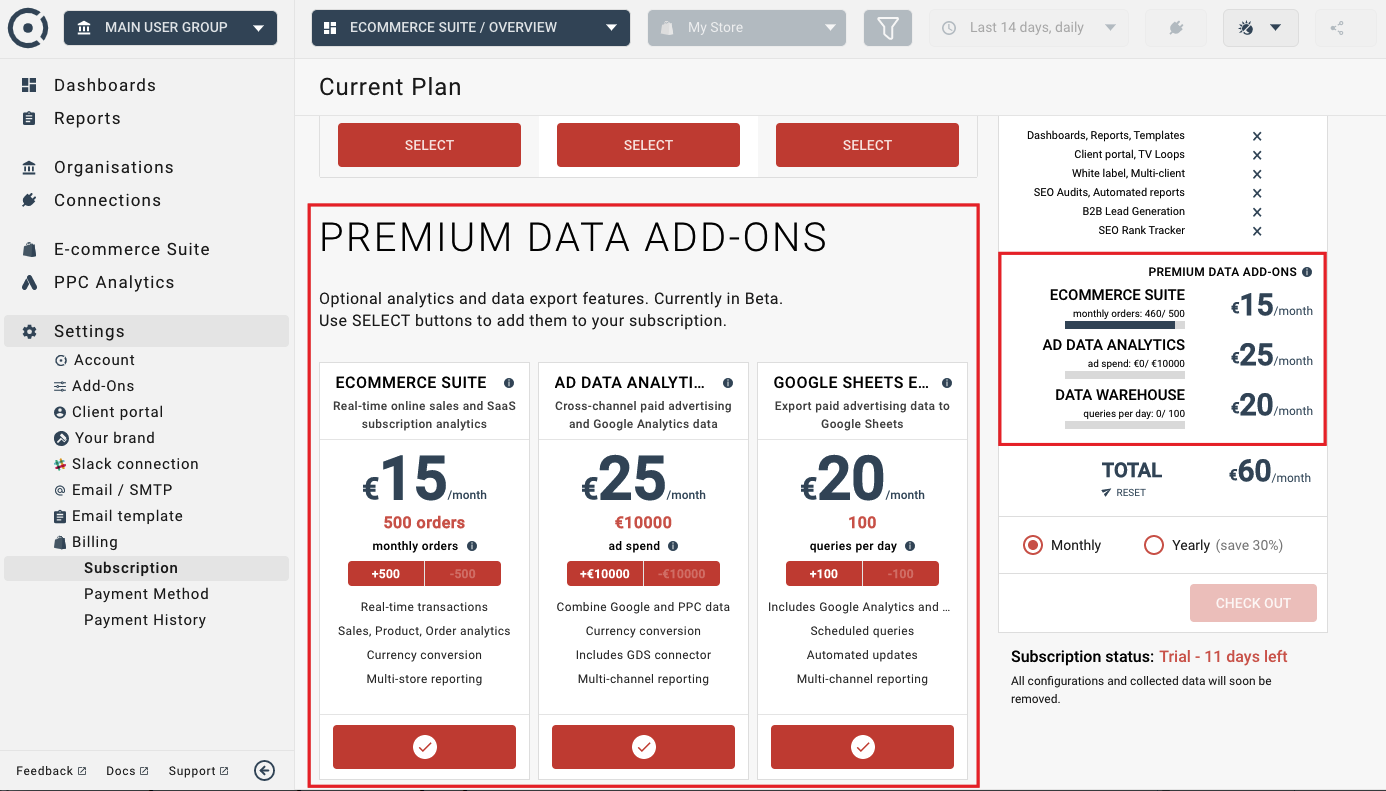 Do you offer discounts?
Yes. If you purchase an annual subscription, you will get a 30% discount!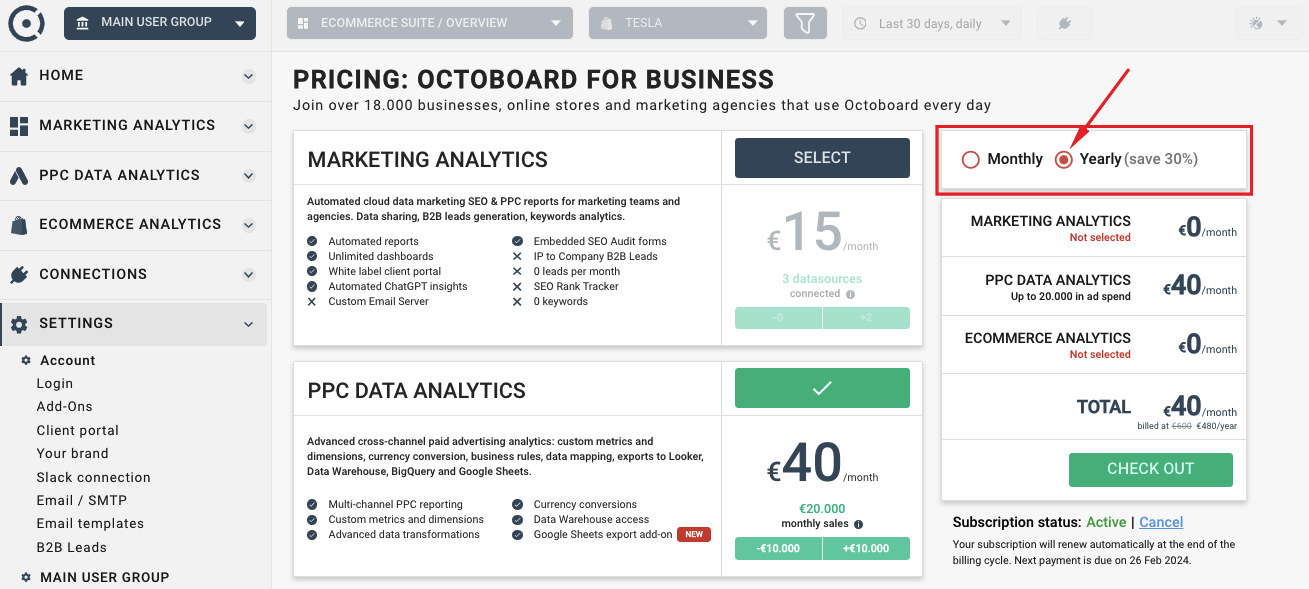 How can I pay for Octoboard?
When you purchase a subscription, our payment engine will start charging your credit card on a recurring basis. Recurring basis means that charges will be made automatically at the beginning of each billing cycle (monthly or yearly). We use Stripe to process payments. It is a global company operating in many countries. We do not accept PayPal payments or wire transfers.
Stripe accepts credit card payments in most world currencies. Our prices are in Euro but you can pay in your local currency. Stripe will convert Euro price to your local currency on the day of purchase.
Do you charge Tax/VAT?
In order to make a payment, you have to add your credit card to your Octoboard profile. The card will be validated and VAT correctly applied.
Octoboard is an EU-based company. Clients outside of European Union will not be charged EU VAT.
We will apply European VAT rates to all purchases made by individuals in the EU. European companies should enter business names and valid VAT IDs. We will validate the data and will not charge VAT in that case (except for businesses based in the Republic of Ireland and in the UK). If your VAT ID verification fails, VAT will be applied and paid to your national tax authority.
Make sure you enter correct EU VAT ID including country code (ex: DE 999999999 in Germany). Please use https://ec.europa.eu/taxation_customs/vies/ to check if your VAT ID is valid.
VAT charges (charged or zero rated) are indicated in Octoboard VAT invoices. Every generated invoice will be stored in our system. Visit LEFT MENU > ACCOUNT > PAYMENT HISTORY to locate them.
Customers in the Republic of Ireland (businesses and individuals) will be charged 23%. Customers in the United Kingdom (businesses or individuals) will be charged 20%.
Where can I find my invoices?
Every generated invoice will be stored in our system. Go to LEFT MENU > ACCOUNT > PAYMENT HISTORY to locate and download your EU VAT invoices.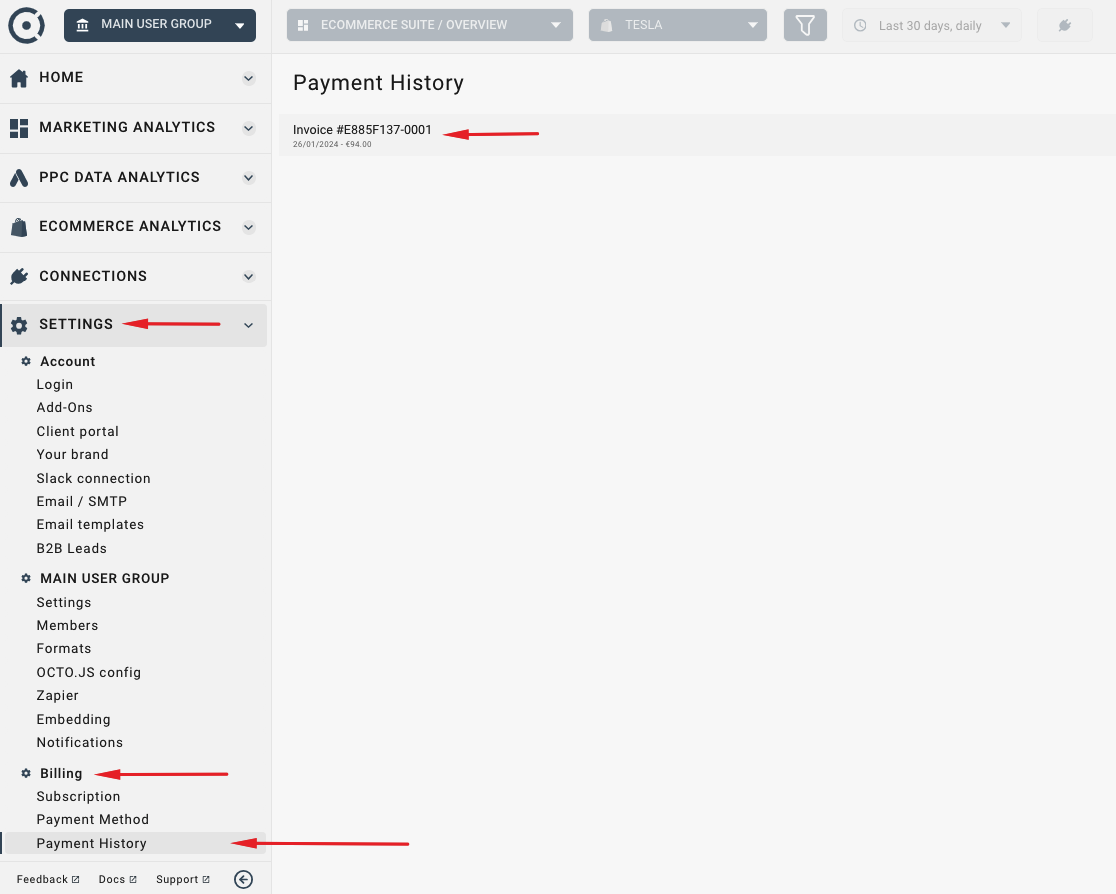 If you want your invoice to contain VAT ID, make sure you enter it when adding your credit card (payment method). For European businesses, our system will validate VAT ID against your company name.
Can I cancel my subscription
You can cancel your subscription by deleting your account any time.
In order to cancel your subscription, go to LEFT PANEL > ACCOUNT and click "You can delete account here" link at the bottom. Once you have deleted your account, we will remove all of your configured dashboards, reports and collected data. You may still receive a few emails but you can always unsubscribe by using "Unsubscribe" link.
As we offer two separate products, please use the correct login to cancel your paid subscription:
Octoboard for Agencies
or
Octoboard for Business
. If you have two Octoboard accounts, you will need to login twice and delete them both.
An email or phone request to cancel your account is not considered cancellation. You should follow the simple procedure above to cancel your account and stop recurring charges.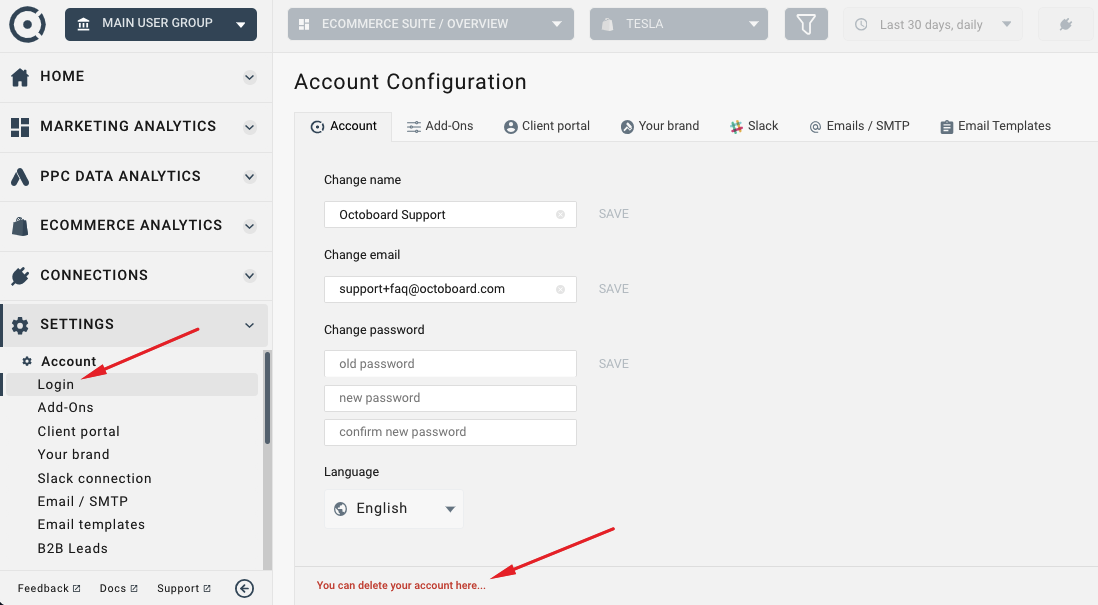 Can you cancel my account for me?
Unfortunately, we can not delete accounts of our clients on request. When you create an account, you always nominate an administrator.
Only your administrator can close (delete) your account.
By logging into our platform and following the steps above, you can delete accounts that you manage. As you go through the process, our platform will verify that you are authorised to delete data that you have collected for your organisation. Octoboard support members do not have such permissions.
I took a 14-day trial and made a purchase. Can I get a refund?
We do not do refunds but may count unused time for future use at our discretion.
Can you call me to discuss pricing?
Octoboard offers a great set of features and integrations for the lowest prices on the market. We can keep our prices so low because we offer Octoboard as a self-service platform. One-on-one consultations or calls would make our products more expensive. We invest all of our time into building intuitive interfaces and pass the savings to the clients. This approach guarantees low prices for everybody - now and in the future.
If you have a specific question, Octoboard Knowledge Base should be able to answer it. Enter your query in the search field a the bottom of the Knowledge Base page. Our system should select an appropriate answer based on your query.
You can also contact our support team via our website or by selecting "SUPPORT" menu item in the application. Our ticket system will register your query and we will reply to you. Make sure you leave your email address and we will definitely respond to your query.