Knowledge Base
DASHBOARDS AND REPORTS
How to display year-on-year (YoY) delta?
By default, if comparison switch is turned ON, you will compare currently selected timeframe to the time period immediately preceding it. With our new release, you can now select to compare data to the same period of time a calendar quarter ago (QoQ) or a calendar year ago (YoY).
You can select QoQ and YoY comparisons by using the TimeFrame dropdown control for the whole dashboard, report or for individual widgets. The following image shows how to compare previous month data to the same month a year ago (previous month YoY comparison):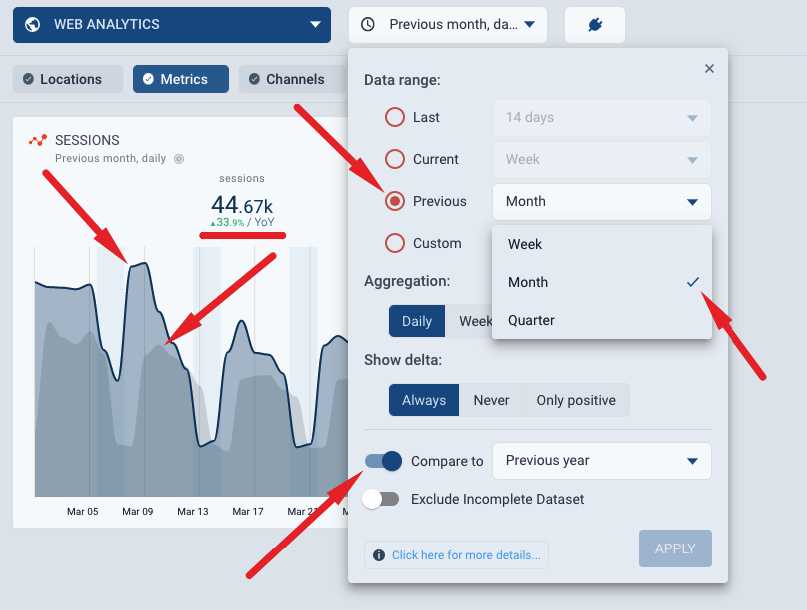 Here is another example of website traffic comparison. Current year (up to "today") compared to the same period of last year (YoY comparison). Graph on the left shows Organic traffic, graph on the right shows Paid traffic.
Please note, that QoQ and YoY comparisons only work for "calendar" periods. For example, it is possible to compare "Previous month" to data for the same month a quarter ago. It is not possible to do the same for "Last 7 days", for example, since "7 days" does not represent a calendar month or year.
IMPORTANT: Not all platforms return historical data to Octoboard. Upgrading your Octoboard subscription will not change that. You will always depend on how much data cloud applications can provide to Octoboard via publicly available programmatic interfaces (APIs).
For more information on how to display historical data in Octoboard, please visit the following Knowledge Base post.