Knowledge Base
Ppc Analytics Add-on: Overview
Ppc Analytics Dashboards And Reports
Octoboard platform offers a variety of data sharing options. But before you decide to export collected data, send an automated report or create a white label client portal, you may want to explore the data in the Octoboard dashboards.
Use the left panel to access pre-defined and fully customizable data views. But first, make sure you enable the PPC Data Analytics Add-on in the Settings > Add-Ons panel.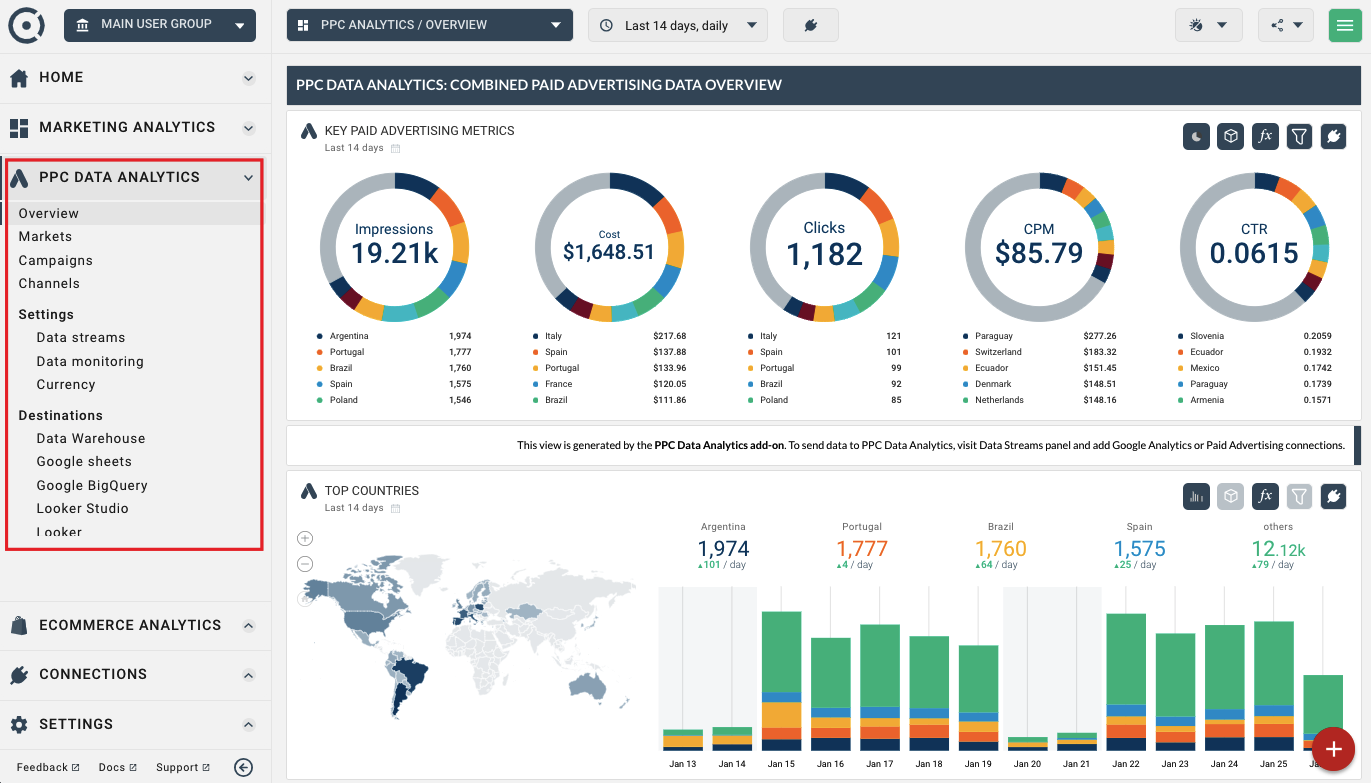 When you first start using PPC Data Analytics in Octoboard, the default dashboards will not be connected. You will see information messages at the bottom of the widgets that would allow you to add new connections.

Simply click the "Add New Connection" link to access the data connection wizard. For more details on how to manage connections in the PPC Data Analytics Add-on, please read this tutorial.
There are many pre-defined dashboards available to you in the Octoboard PPC Analytics module. These dashboards are made up of data explorer widgets. You can always add other types of widgets from any data source available to you, but Data Explorer is the key visualisation component that works with the PPC Analytic Data.
You can modify any of the PPC Analytics dashboards and reports by adding other types of widgets from any data source available to you. You can also add PPC Analytics data to combine PPC data in any standard dashboard or reports in Octoboard.
This image shows a Data Explorer widget used in the Website Traffic dashboard - a standard Octoboard dashboard available for Google Analytics connection.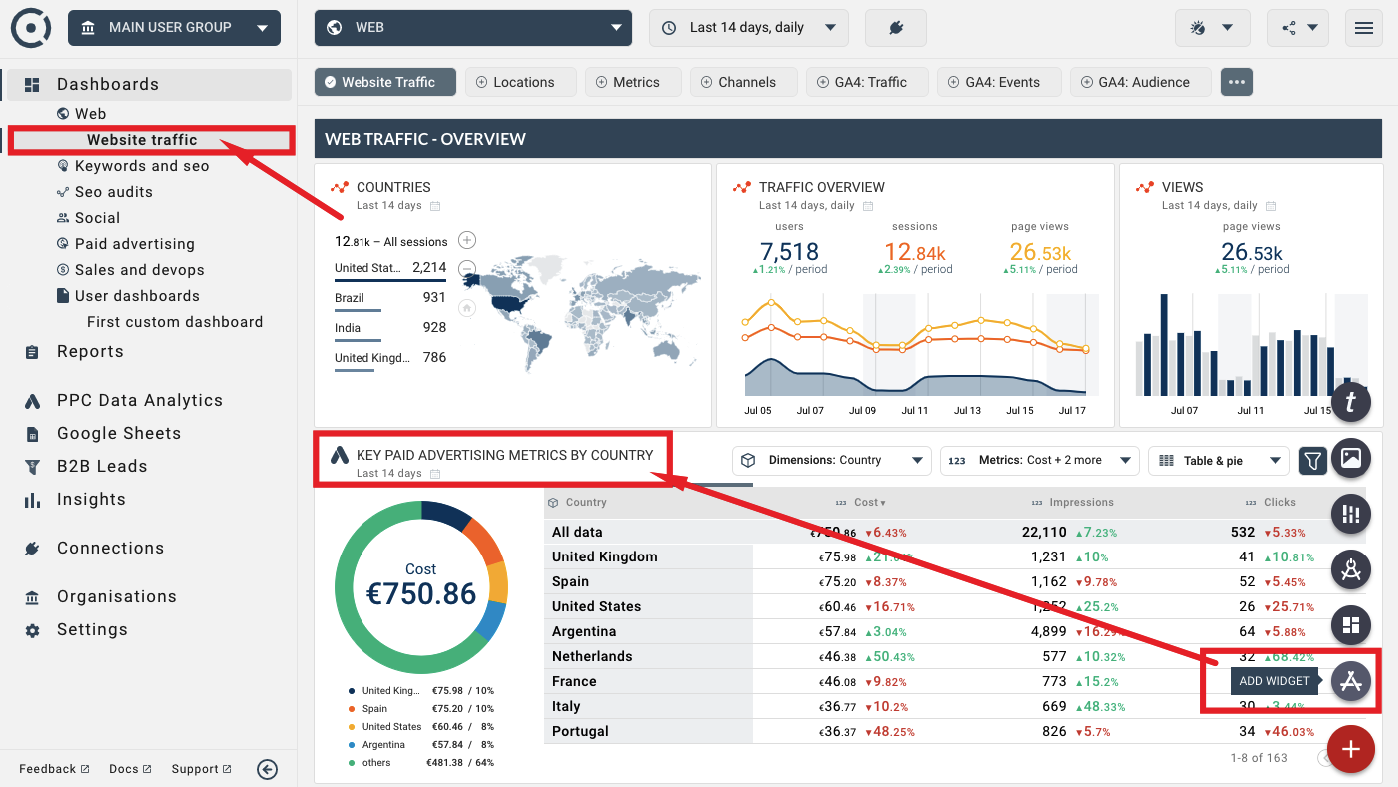 You can add Data Explorer widgets to any dashboard or report by using the ADD WIDGET option shown above. Alternatively, use the CLONE option in the top-left corner of the Data Explorer.

Octoboard products allow marketing agencies and online businesses to automate cloud data reporting. With the addition of the PPC Analytics module, you can add advanced analytics data to any Octoboad report or white label client portal.
This tutorial covers the process of creating an automated cloud data report.
To add PPC Analytics data to a report, use the ADD WIDGET option as shown in the image below. Here, we added Data Explorer widgets to a pre-defined Google Analytics report.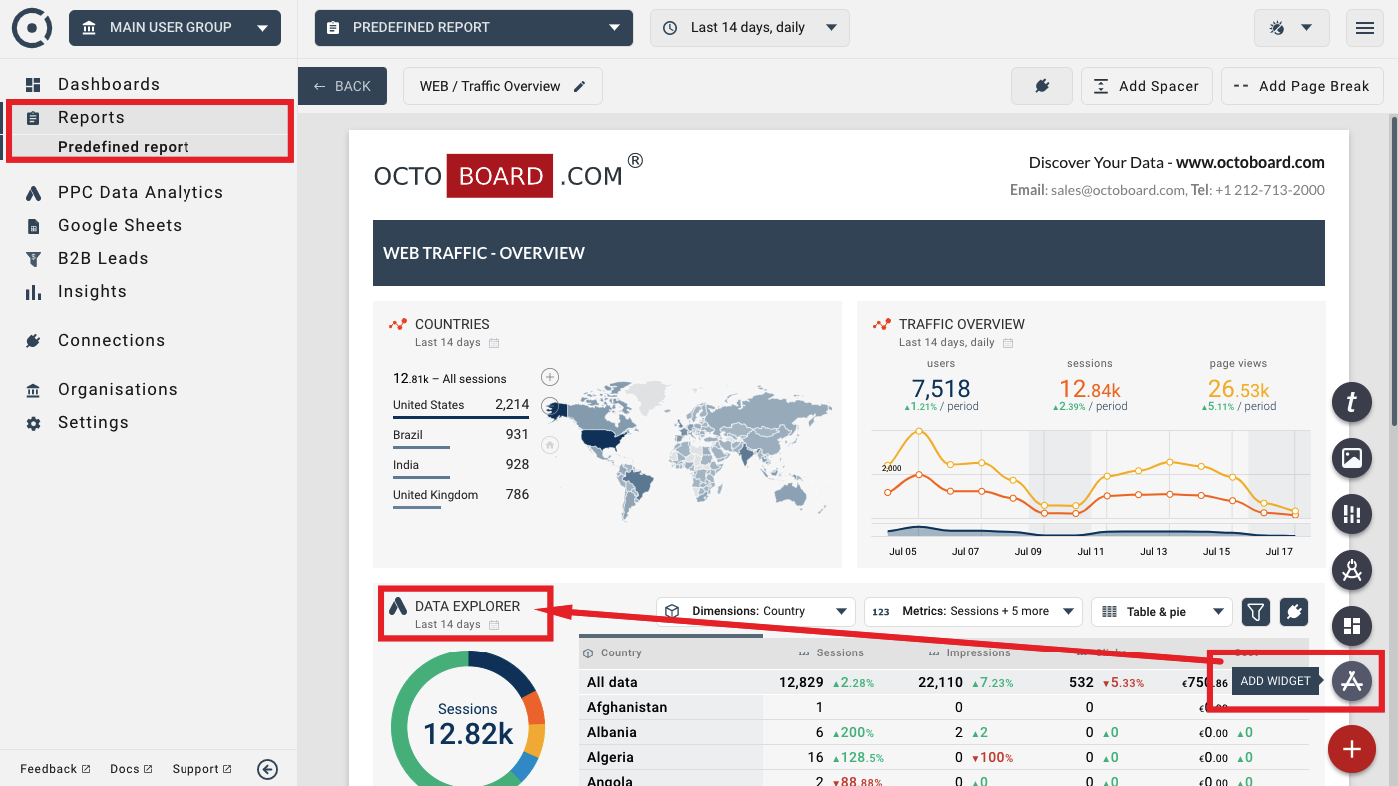 Data Explorer widgets are capable of combining data from multiple data sources (data streams) and displaying predefined and custom rules metrics and dimensions.
You can use Data Explorer widgets in standard dashboards as well as add them to any dashboard or report of the core Octoboard product (Octoboard for Business and Octoboard for Agencies).

For more details on how to configure Data Explorer widgets, please read this tutorial