Knowledge Base
Core Products: Getting Started
Scheduling Automated Reports
It is easy to set up automatic distribution of white label reports by email. Digital agencies and startups send generated PDF reports regularly to share business and marketing updates with clients and internal teams. Automation of this task will save you a lot of time.
With Octoboard for Agencies you can create any number of reports, dashboards and invite any number of client users or your agency staff to assist you with report configuration. We do not count how many reports you send. It is all unlimited. You only pay us a small flat fee for every client your agency serves with Octoboard. The more reports you generate for your clients, the more value you create, the happier your clients will be!
This tutorial shows how to schedule automatic reports.
You can create reports from scratch or by using one of our templates. Octoboard also comes with PREDEFINED REPORT that allows you to simply turn on and off PDF document sections. You can modify any section or any part of the predefined report later.
To access predefined report go to Left Menu > Reports > PREDEFINED as show on the image: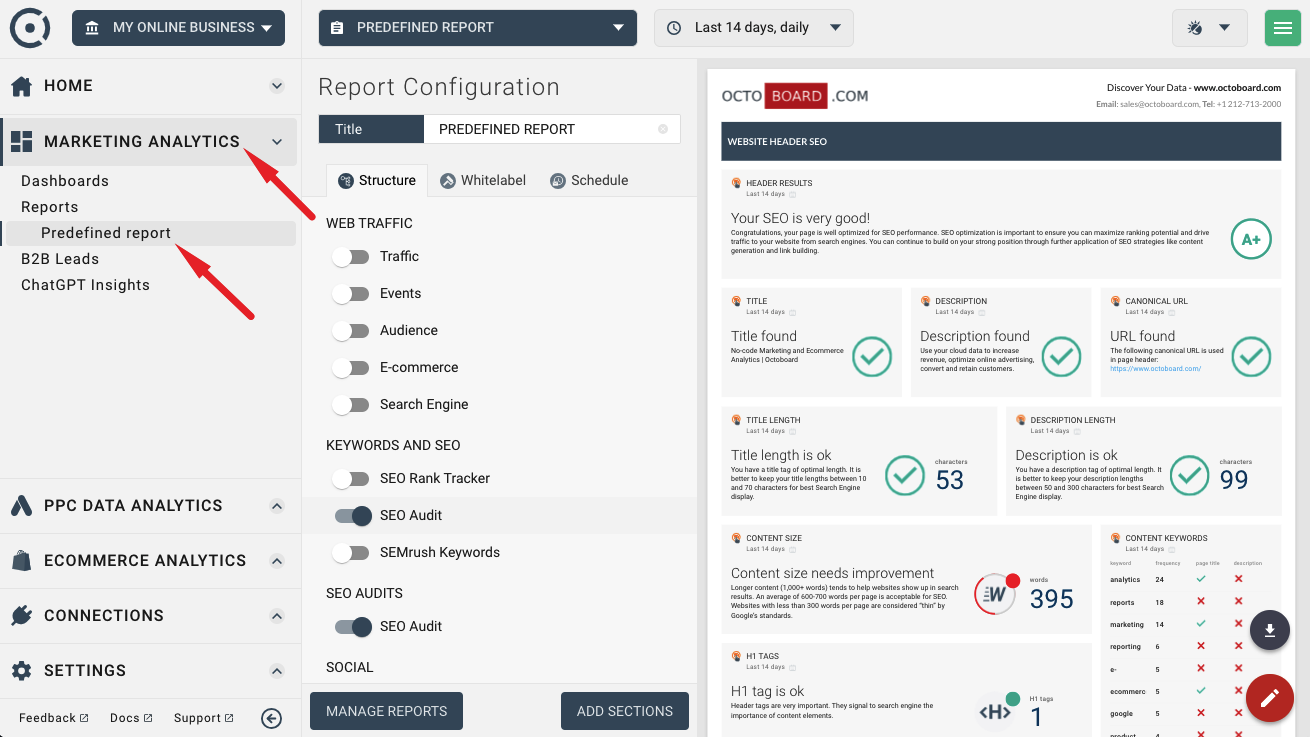 Turn on and off report sections using "STRUCTURE" tab of the predefined report: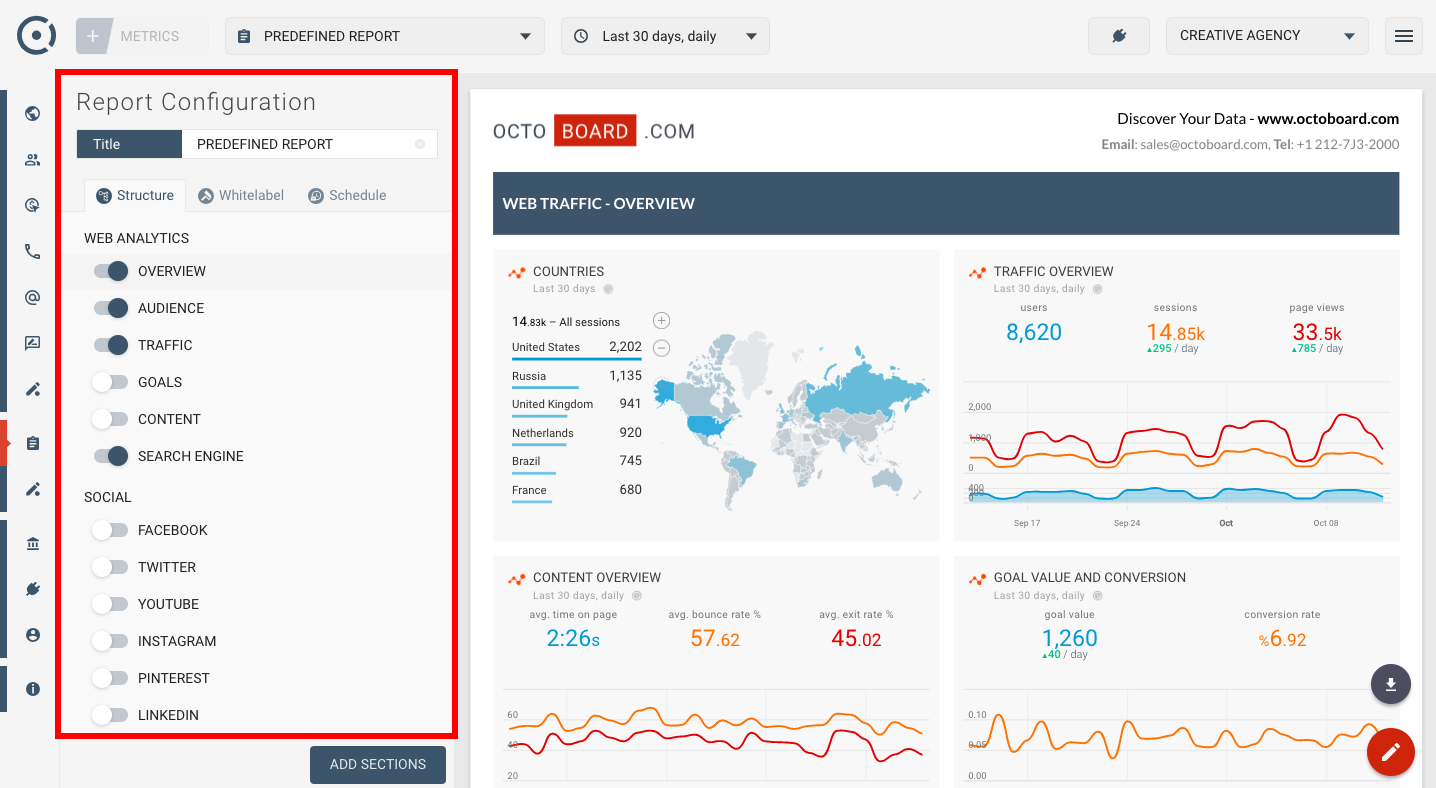 How many sections to have is entirely up to you. You can delete, hide or create completely new sections in the report. You can, for example, create an empty section and add new widgets to it one-by-one or you can add section that is based on any of the 200 pre-defined Octoboard templates. Use "ADD SECTION" button at the bottom of the screen and select the template and cloud application to connect to.
Click "SCHEDULE" tab in the report configuration and set client email address and email text.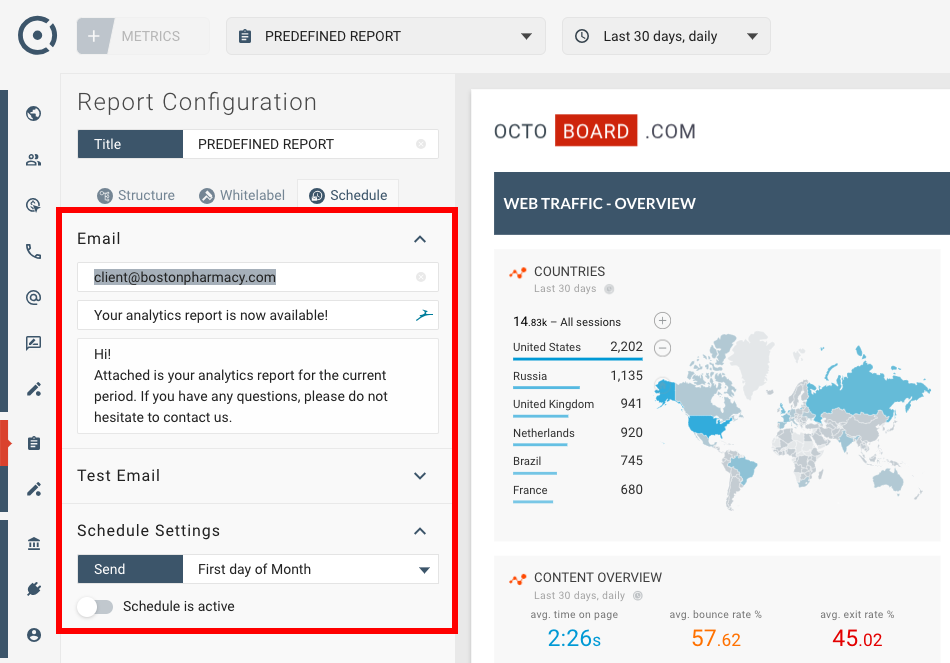 You can enter up to 5 client email addresses separated by a comma. In order to send reports by emails, you have to make sure your main account administrator's email address is verified with Octoboard.
Next, specify when you want the report to be sent. In this case it is configured for "Last day of each Month".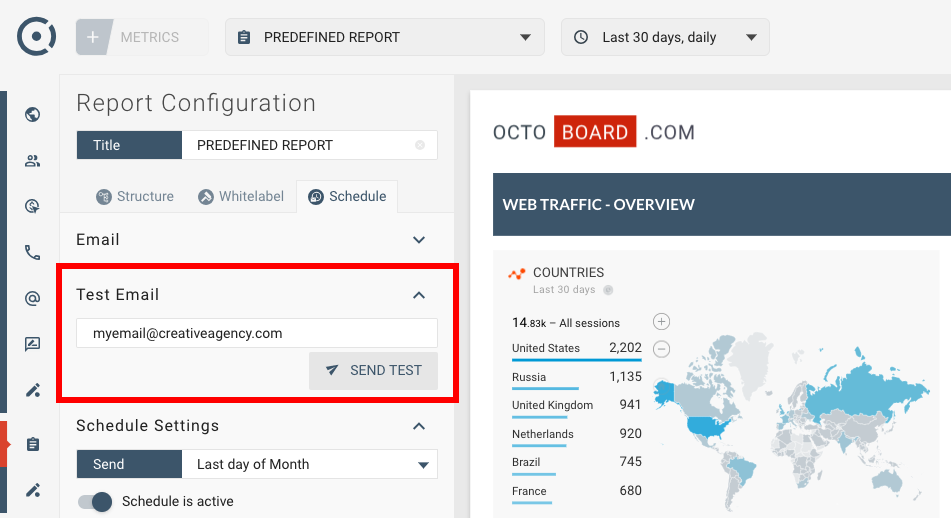 You can now send a test email with the generated report. Enter your email address in the "Test Email" field. After you click "SEND", this is what you should receive in your Inbox in a couple of minutes:
Please note that if you do not configure your own email server or email templates, all report emails will be received from an independent white label domain www.analytics-report.com. Your business name (CREATIVE AGENCY) is copied from the name of the main organisation that you created in Octoboard. Make sure you set it to your business name. To do so, go to Left Menu > Profile > Account Details > Change name.
You can configure Octoboard platform to send emails from your domain as well as change default email texts and footers.To find out how, please visit our Knowledge Base post on How to set up custom email domain and modify default email templates.
To view all reports created in the system as well as their schedules, go to Left Menu > Reports > Manage All.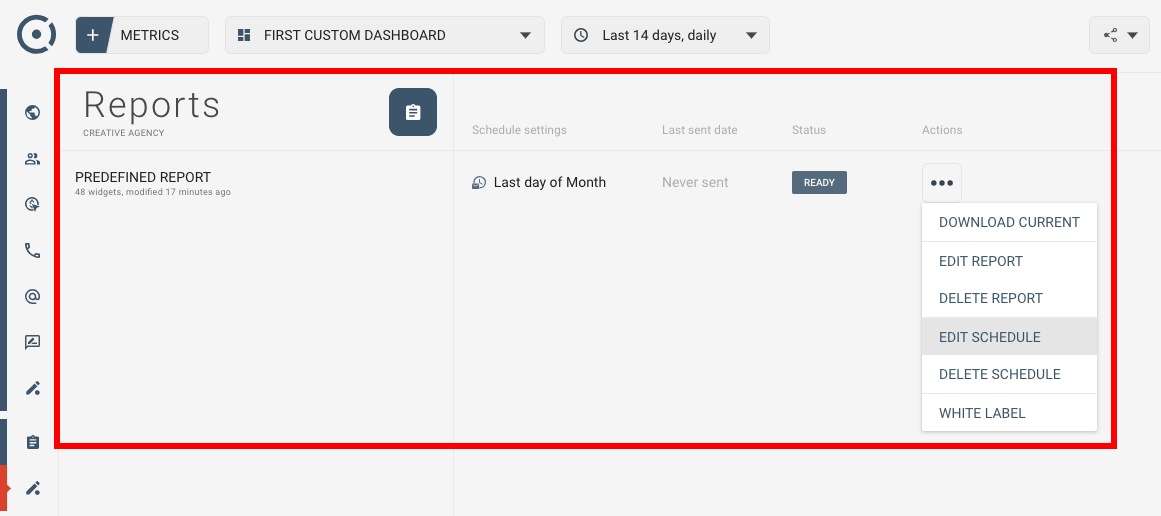 In the table you will see the list of all reports. You can do the following actions for selected reports: EDIT REPORT, EDIT or REMOVE SCHEDULE, DOWNLOAD REPORT and configure WHITE LABEL features.
For an overview of the Octoboard white label options and features please
read this tutorial
. We offer custom email templates, white label url links, custom logos, custom report headers and footers, white label client portals, white label dashboard and report sharing options and other features as free add-ons in all our premium plans.