Octoboard offers two core SaaS products and data add-ons such as E-commerce Suite. To purchase an Octoboard subscription, you will need to select one of the core products. Octoboard data add-ons are optional.
Octoboard E-commerce Suite is an optional data analytics add-on for Stripe accounts and WooCommerce stores. It allows Octoboard clients to receive real-time data and events from e-commerce systems and display sales data, product and customer analytics in dashboards, automated reports, client portals. In addition, the E-commerce Suite offers automated AI insights and data connectors for Google Data Studio.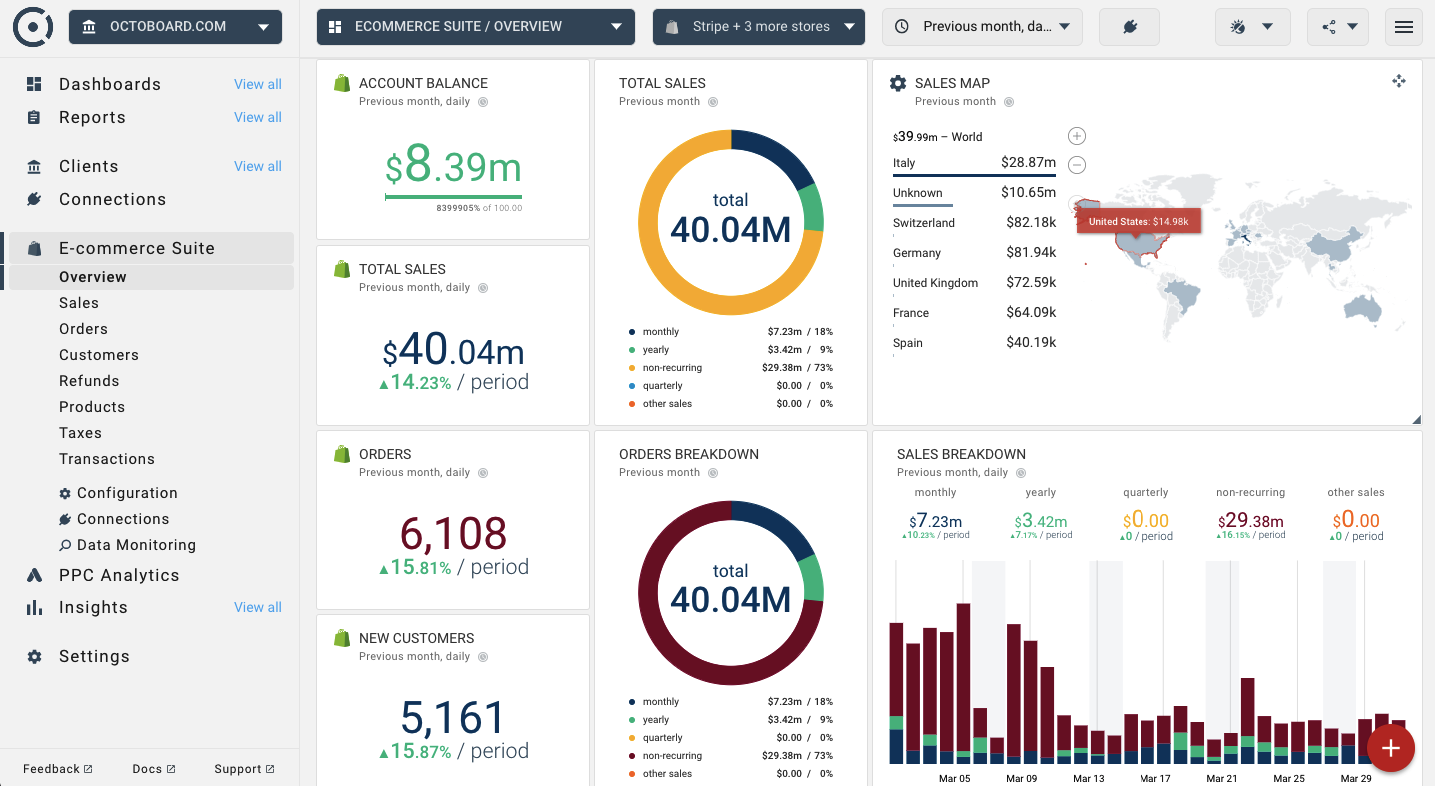 E-commerce Suite data add-on is charged based on the number of orders (invoices) paid monthly in all connected stores.
If the number of payments is higher than what is allowed in your subscription, you can either disconnect a store or upgrade your subscription.
When you purchase E-commerce Suite add-on, you select the maximum number of orders you would like to process. We offer multiples of 500 orders.
You can downgrade or upgrade your subscription at any time. Use +500 / -500 buttons to increase your maximum order number.
Important: E-commerce Suite connections are visible within specific organisations (clients). If you want to display data to several organisations in your account, you will need to connect stores multiple times. Every connection in every oganisation (client) counts towards your subscription quota (maximum number of monthly orders).
What happens if you reach the subscription limit
If you hit the monthly orders threshold, you will see a message in your widgets. If you click on the message link, it will bring you to the subscription screen to modify your subscription.
For more details on core product pricing, trials and refund policies in Octoboard, please check out our pricing tutorial.