Automated White Label SEO Audits released
Starting from this month, Octoboard platform automatically builds SEO Audits for web sites. Any client of Octoboard can simply add a website (or URL) and our platform will start generating and updating dashboards and reports with Key SEO metrics that are important to search engine ranking of the website. There is no need to add or define metrics – simply use our templates for online client dashboards, client portals or automated SEO, SEM reports.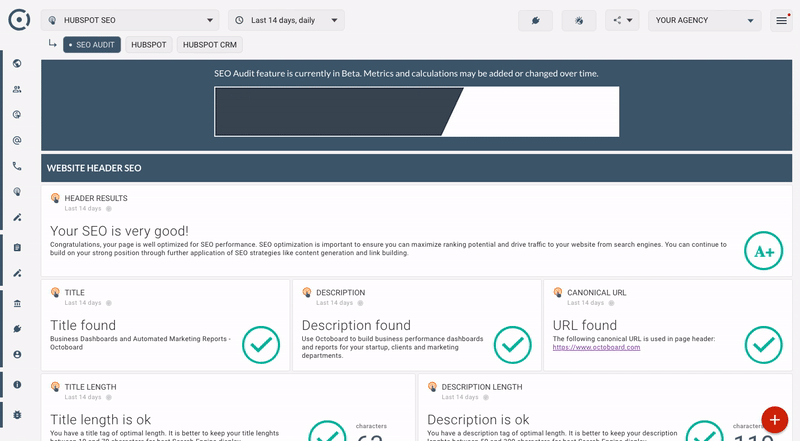 Octoboard SEO Audits page is available here. SEO Audits templates for Automated Reporting and Online Client Portals are also available.

Octoboard SEO Audits will do the following for your website out-of-the-box:
Track important SEO settings
Optimize html header and content for SEO
Validate images
Check keyword distribution
Run performance checks
Scan JavaScript errors
Verify security settings of the website
Validate correct redirection setups
…and more
How marketing agencies and businesses use SEO Audits
SEO Audits are a great way to reduce churn (make sure clients stay with your business) and to convert your website visitors to leads (and paying customers). Here is how to achieve that with Octoboard:
Reduce churn
Clients appreciate value that your business or agency brings to them. If you setup automated SEO Audits reports or make SEO Audits part of your regular communication with the clients, it will show that you can help improve SEO rankings and that you can track it over time. Measuring SEO improvements and showing results of your work to clients is an excellent tool that ensures that you clients stay with your business for a very long time.
You can always combine SEO Audit reports with data from Google Analytics, Google Search Console over 50 other platforms that Octoboard can connect for your and include in regular client reports.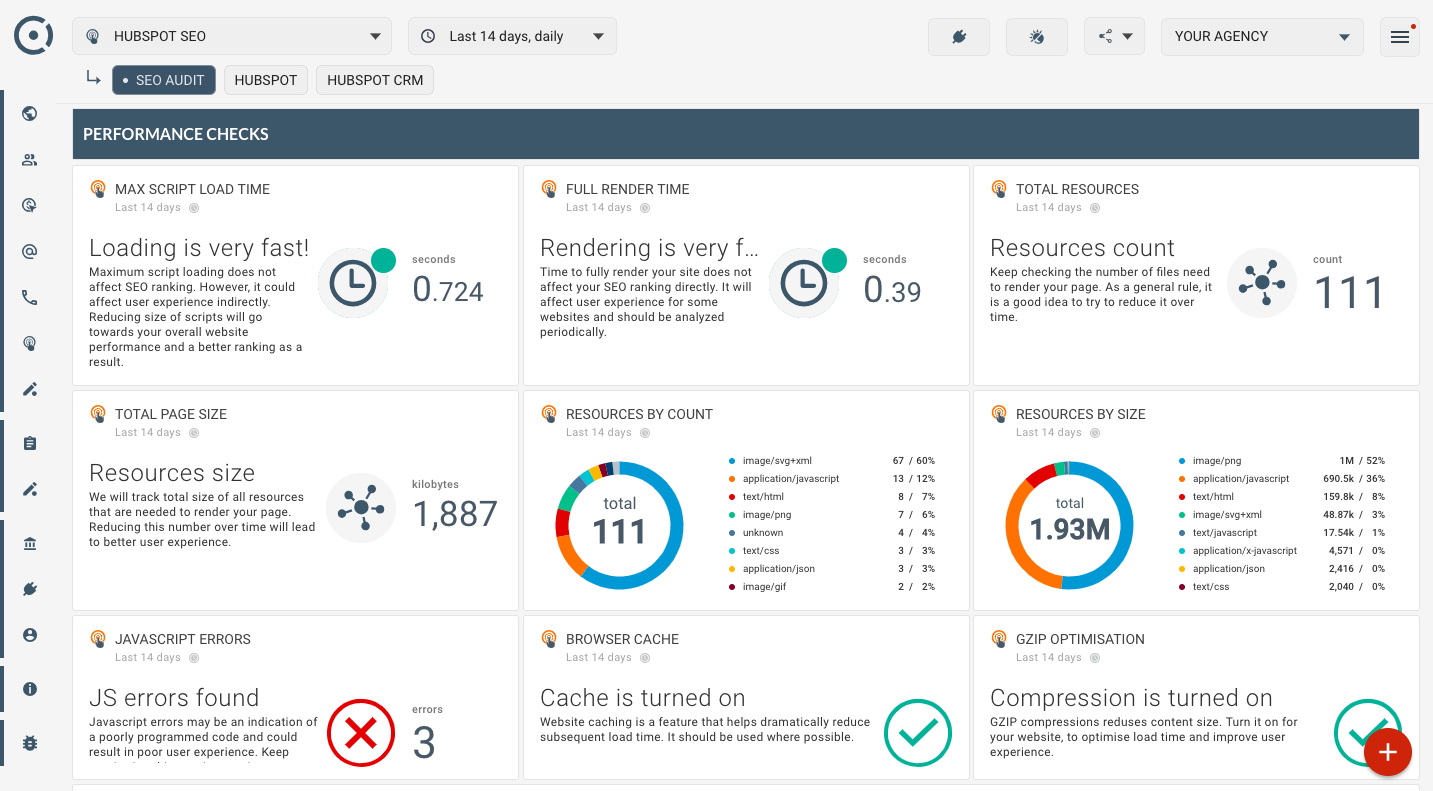 Convert visitors to leads
Very soon we will allow Octoboard clients create fully white labeled SEO Audits and embed them into their websites. Your visitors will be able to run SEO Audits for their domains and will leave email addresses for you to send PDF reports with your branding.

It will be very easy to setup, will require not technical skills and Octoboard platform will do all the hard work. Clients will be impressed with the high quality output and the technical expertise that you will offer them. Your business will start adding email addresses to leads lists and convert visitors to paying customers.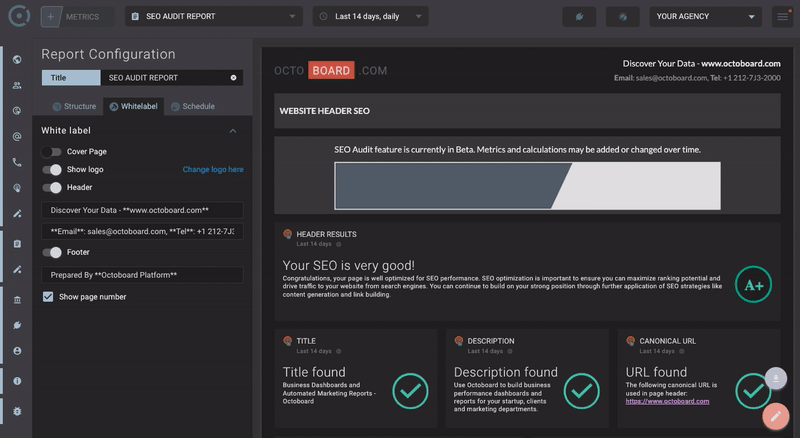 How to configure SEO Audits
This is VERY EASY. Follow these simple steps. The whole process will take you less than 1 minute:
Log into Octoboard
Locate SEO Audits dashboard or predefined report section
Set domain for SEO Audit
That is it!!
You can now add your SEO Audits to your regular scheduled automated reports (check out our Knowledge Base post that covers how to do this: https://www.octoboard.com/support/tutorial-how-to-schedule-report). Or add reports to your client portal or embedded online dashboard (here is another post that covers Octoboard online dashboards: https://www.octoboard.com/support/how-to-share-data-with-clients-and-teams).
How much does it cost?
SEO Audits are FREE ADD-ONS that are available to all paying customers of Octoboard. That's right! Purchase any paid Octoboard plan and you will have access to all SEO Audit widgets (note: some plans limit the number of widgets that you can use in dashboards and reports. Make sure you either select the plan that has enough widgets for you to include your new SEO Audits or delete some of the existing widgets or select the plan that will give you enough widgets).