Knowledge Base
Email Configuration
How To Configure Custom Smtp Server
Any user with administrator role can configure standard emails that are sent by Octoboard platform. It is also possible to define how standard emails are distributed - either from octoboard.com domain, from analytics-repot.com, from your own email/SMTP server or by using our Hosted Emails Service.
Custom Email Templates and Custom Email Server configuration are premium features. They are available to clients on Octoboard for Business TEAMS and Octoboard for Agencies TEAM plans.
To access standard emails and to configure custom email server, you need to go to LEFT MENU > ACCOUNT CONFIGURATION > EMAIL Tab.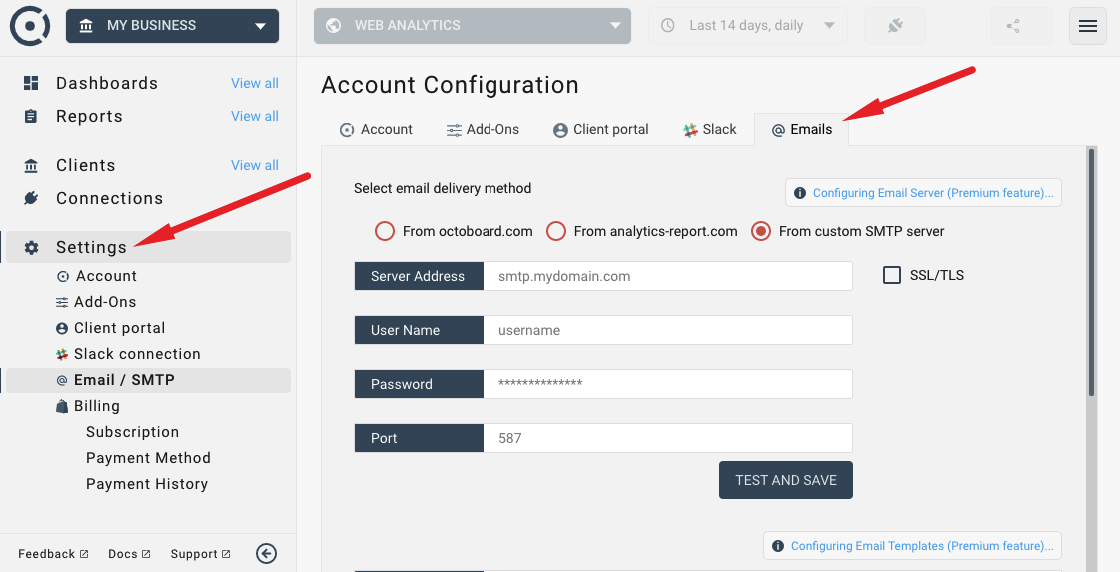 If you or your business use own email server (SMTP server), you can use it to send emails instead of OCTOBOARD.COM or ANALYTICS-REPORT.COM. To configure custom domain, use the same email configuration feature accessible via LEFT MENU > ACCOUNT > ACCOUNT CONFIGURATION > EMAIL Tab.
The following image shows configuration parameters that you need to set in order to enable custom email domain.
Enter your SMTP server parameters in the edit boxes provided and enable secure SSL/TLS if it is supported by your SMTP server. We recommend using secure connection by default. Turn this option ON and use default port 465. If your SMTP server does not support SSL/TLS, turn it OFF and use port 587 or 25 (default ports for non-secure email connections). If you are unsure about what configuration parameters to use, please contact your website or email server administrator.
Please note that if you are using Gmail server personally or as a business, you may not be able to use this feature. Gmail servers do not always work with this setup. Make sure you test your configuration before leaving CUSTOM SMTP SERVER option ON. If you are not receiving emails during tests, it means the setup will not work for you.
If you cannot configure your custom email domain, please use analytics-report.com domain as default white label option or try our Hosted Email Service.
To test your custom email configuration, click the SEND TEST button in the Email Templates tab. Test emails will be sent to the email address that you indicated in the Test Email edit box. Please note that test emails are sent to verified email addresses only. You can always create a test user in the system and verify his or her email. If the test is successful, Octoboard will show you a confirmation note and you will receive an email message in your inbox.