How to enable WooCommerce integration
When adding a WooCommerce widget, template or when being asked for your store details, please provide the following information:
- WooCommerce store URL - enter your domain with https:// or http:// prefix
- WooCommerce ConsumerKey and SecretKey.
To generate the keys, visit WooCommerce API Key Generation Page (WooCommerce > Settings > Advanced > REST API > Select Add Key). Octoboard does not modify your WooCommerce data. It would be sufficient to create keys with read-only access rights.
WooCommerce API requirements
You may access the API over either HTTP or HTTPS, but HTTPS is recommended where possible. To be able to use WooCommerce API you must have:
- WooCommerce 3.5+.
- WordPress 4.4+.
- Pretty permalinks in Settings > Permalinks so that the custom endpoints are supported. Default permalinks will not work.
To check Permalinks settings, go to your WordPress configuration (Settings > Permalinks) and set them to any but Plain option.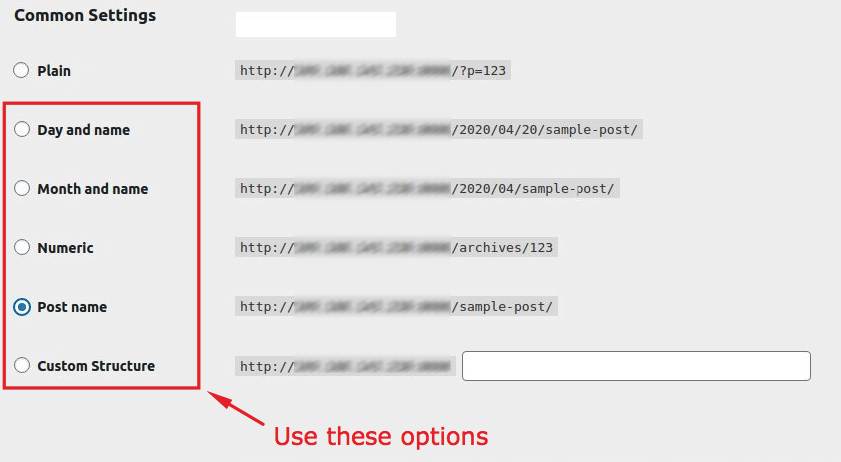 The following WooCommerce posts cover data API requirements and WooCommerce troubleshooting options.
Enabling authentication headers in your store
Sometimes, after you have done the above checks, we still can not retrieve data. Octoboard will report "Internal error" or "WooCommerce website not configured for external API (headers)". This happens in cases when WooCommerce stores are configured to remove HTTP authentication headers from data API requests. This is a known issue in WooCommerce community. There are a few options that you can try to remove this limitation. Check out this post that shows available options.